TALKING WITH... LAURA GRANVILLE
February 20, 2001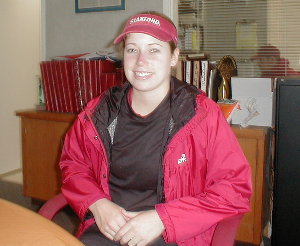 Laura Granville is no stranger to records. In 1999, Granville broke Tracy Austin's (pictured below) long standing feat and became only the second player to win the USTA National Girls' 18 Championships two years in a row.

On February 17th, Laura led her team to the USTA/ITA Indoors final as she broke yet another record -- the Stanford sophomore passed Patty Fendick's 57th match winning streak. Fendick, now Patty Fendick-McCain and coach of the Washington women's team, was on hand as Granville won her 58th straight match.
Though she lost her match (to Aarthi Venkatesan of Georgia, 7-5,6-2) the following day, her team went on to win the event. As I learned in our conversation, it is the team accomplishment that is her focus.
Marcia Frost
* * *
Q: What can you tell me about the weekend (at the ITA Indoors)?:
A: It was great for us as a team. I was really looking forward to this tournament. It was a big test for us against the best in tennis.
---