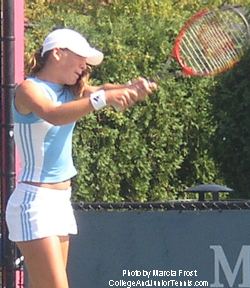 Q: Congratulations. It was a great tournament. I know you struggled some this week with tough matches, but not today.?
A: "She (Reka Zsilinszka) played her same game and I know what I had to do to be aggressive. I was playing really well and that worked out for me."
Q: You are from a big tennis playing family. Is there a rivalry with your sisters?
A: "Definitely. There is a lot of rivalry, but it's not with each other, it's more -- 'Erin won that tournament when she was 11, then Mallory won it at 10.' We practice together a lot. There's no direct jealousy or competitiveness. It's a unique thing. In most families if one kid plays a sport the others stay away. Not ours."
Q: I know you have played doubles with Mallory (they were recently finalists at the Costa Rica Bowl) have you played with Erin?
A: "No, not yet. Erin and I are five years a part so it makes it a little tougher. Mallory and I are only three years apart. "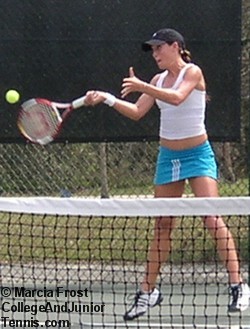 Q: Are you thinking about college?
A: "Definitely. I haven't been prepared for all the questions that everybody's been asking. I'm only a junior and I haven't thought about that yet, but I'm looking to go to college."
Q: You have been playing a lot of ITFs in addition to the USTA Nationals. What do you prefer?
A: "I love the traveling and I've played a lot of these USTA tournaments for awhile now. It's a lot of fun to travel around and see new places with the ITFs."
Q: What has been your best win?
A: "I don't really have one. For instance, the people that I've beaten this week are all capable of doing unbelievable things when they hit the ball. I don't really look at it as a good win or a bad win. I just take it one match at a time because any of these girls can beat anyone on a given day."
more