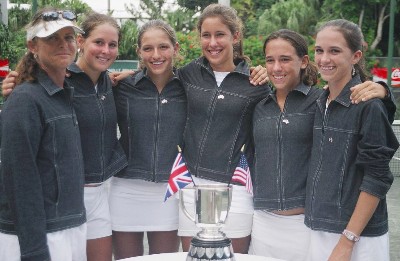 Winning USA Team: 8-3 over Great Britain
Left to right: Robin White - USA Team Captain, Joanna Mather, Sarah Guzick, Nelly Radeva, Daisha Hill-Hurtado and Kathryn Talbert
The United States Team (above) captured the 2005 Maureen Connolly Trophy with an 8-3 win over Great Britain. The U.S. now leads the series with 20 wins, 11 losses.

The Maureen Connolly Challenge Trophy is an international competition between 18 and under girls of Great Britain and the United States. Each nation brings five players for the three day event.
FINAL SCORE: UNITED STATES 8, GREAT BRITAIN 3
Saturday, October 1st
Great Britain 2, USA 1
Joanna Mather (USA) defeated Naomi Broady (GB), 6-2,7-6
Naomi Cavaday (GB) defeated Sarah Guzick (USA), 6-0,6-3
Naomi Broady/Naomi Cavaday (GB) defeated Sarah Guzick/Joanna Mather (USA), 7-6,6-3
Friday, September 30th
USA 3, Great Britain 1
Stephanie Cornish (GB) defeated Kathryn Talbot (USA), 7-6,7-6
Joanna Mather (USA) defeated Naomi Cavaday (GB), 6-4,6-2
Daisha Hill-Hurtado (USA) defeated Caitlin Steel (GB), 6-1,6-2
Nelly Radeva (USA) defeated Hannah James (GB), 6-2,6-0
Thursday, September 29th
USA 4, Great Britain 0
Nelly Radeva (USA) defeated Caitlin Steel (GB), 6-0.6-0
Daisha Hill-Hurtado (USA) defeated Hannah James (GB), 7-6,6-0
Sarah Guzick (USA) defeated Naomi Broady (GB), 7-5,7-6
Daisha Hill-Hurtado/Kathryn Talbert (USA) defeated Stephanie Cornish/Hannah James (GB), 4-6,6-3,6-3
For more information on this or other Maureen Connolly Brinker Foundation events, please visit their website: http://www.mcbtennis.org
2001 MCB CHALLENGE TROPHY not played