May 22, 2005-Day Two of Team Championships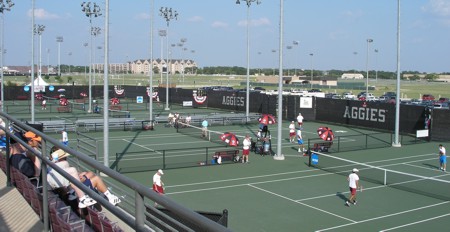 I finally made it to Texas A&M where the energy is high, the excitement is everywhere and the temperature is nearing the triple digits as the top college players in the country compete at the NCAA Division I Men's Championships. It's going to be quite a week!
My connecting flight to College Station was delayed, but the time went quick as I enjoyed a lively conversation with the Virginia Tech coaches and their top player Stephane Rod. (Though the team didn't make the final 16, Stephane will be playing in the singles.) It wasn't long before I arrived at the tournament and have to admit I was totally overwhelmed. It may sound strange from someone who spends three weeks every year covering U.S, Open, but the scene at Texas A&M is much different. The matches are all around you as the crowd cheers and moves from one to the next, waiting for that point which will more their favorite team into the next round.
I had arrived to late to catch No. 7 UCLA upset No. 2 Virginia, but I did catch Bram ten Berge's final points as he defeated Ricardo Gonzalez to clinch No. 3 Mississippi's 4-2 victory over No. 6 Georgia. At a press conference after the match, Coach Jim Thompson attributed a lot of the team's emergence this year as a top contender to the fact that he is able to go eight deep and always have rested players. He also gave a lot of credit to the guys themselves, "The reason that we are in the final four is because this is a true team."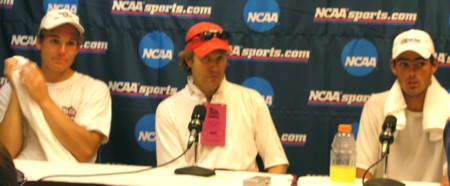 Erling Tveit, Coach Billy Chadwick & Bram ten Berge of Mississippi
The rivalry between No. 4 Florida and unseeded Florida State, who had already taken out twelth-seeded Kentucky and fifth-seeded Illinois, was never more apparent than during a doubles event that ran down to the point. The Gator team of Nestor Briceno and Stefan Tell dismissed Sam Chang and Jonathan Sucupira fairly quickly for their first doubles point. Then the Seminoles came back as Mat Cloer and Ytai Abougzir took out Chris Brandi and Jordan Dolberg. It all came down to court one where State's Chris Westerhof and Jeff Groslimond battled Hamid Mirzadeh and Greg Ouellette. It was an exhilirating spectacle as they traded wins and head into a tiebreaker at 8-8. When it looked like there would be no end, Hamid and Greg pulled it out at 7-6. From there on it was all Gator as the swept the singles for a 4-0 win.
Baylor's match against Pepperdine was rather one-sided as the top-seeds eliminated the Waves terrific 2005 run. Baylor will face Florida tomorrow evening following the late afternoon Mississippi-UCLA match up. I can't wait to see the match-ups at this incredible NCAA Championship.
Until Tomorrow,
Marcia Frost
Click Here For Full Men's Team Results