May 23, 2005-Day Three of Team Championships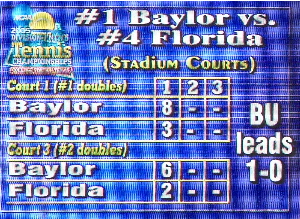 It's another year and there were some new contenders (Florida State, who would have thought a year ago?), but we've come to the same conclusion with another UCLA-Baylor final.
The afternoon started with the Mississippi-UCLA semi. The heat was still debilitating and the idea was to get it done as soon as possible. That was an easy task for the UCLA doubles teams as Phillip Gruendler/Benjamin Kohlloeflel and Chris Lam/Luben Pampoulov easily dismissed their opponents for UCLA's first point. The singles went just as easy and even though Mississippi did rack up two points from Catalin Gard's win over Luben Pampoulov and Juan Pablo Di Cesare's defeat of Chris Lam, Benjamin Kohlloeffel and Alberto Francis got the job done for the Bruins.
Just because it's not their home turf doesn't mean their not Texans and the Baylors certainly had the crowd advantage tonight. The Gators had their own support sprinkled in, but it was the Bears fans who could be heard echoing throughout the George P. Mitchell Tennis Center. And the crowd got its wish as Baylor shut out Florida.
It wasn't very long before Benedickt Dorsch and Matija Zgaga had Hamid Mirzadeh and Greg Ouellette at an 8-3 loss. (Despite the score, the No. 8 doubles team in the country put up quite an impressive fight.) The other doubles win was earned by Jon Reckeway and last year's NCAA singles champion Benjamin Becker, who was also the first Bear to notch a singles victory with his win over Greg Ouellette. Benedikt Dorsh garnered another point, but Florida refused to go down without a fight. Ryan Sherry picked up a point for the fourth seeds over Greg Shearer. Then all eyes, and cheers, focused on court four where Bear Michal Kokta was in a tiebreaker with Nestor Briceno. Tempers were flaring as high as the temperatures and it looked like Nestor just might pull it into a third set when Michal came through at 8-6.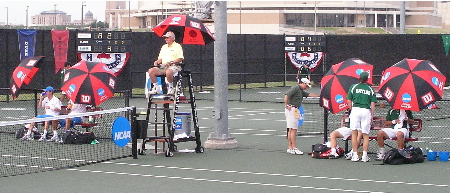 The forecast for Tuesday is still stifling. Everyone is hopeful that the six o'clock evening start might bring a drop in the mercury, but whatever the temperature, the heat will be felt at Texas A&M as No. 7 UCLA and No. 1 Baylor -- the defending champions -- play for the NCAA Division I crown.
Until Tomorrow,
Marcia Frost
Click Here For Full Men's Team Results
Click Here For Stories From Other Days &
Results From The Women's NCAA Championships
| | | |
| --- | --- | --- |
| Nestor Briceno | Ryan Sherry | Jakob Klaeson |