May 24, 2005-Final Day of Team Championships
UCLA STUNS BAYLOR 4-3!!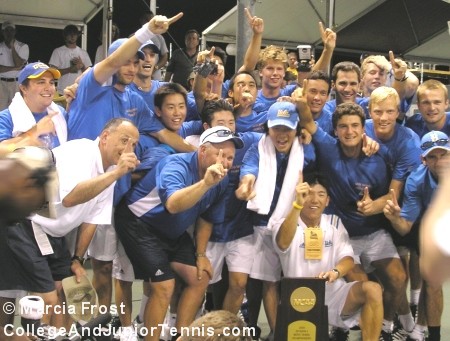 There are moments in my career I will never forget. Covering my first U.S. Open, watching a junior pick up their first gold ball. Until now I thought those were some of the greatest tennis moments. That was before I saw UCLA win the 2005 NCAA Championships. That is a moment I will never forget... and neither will Coach Billy Martin.
It has been 21 years since UCLA held the NCAA trophy. They had lost their last six attempts, but tonight they pulled off what all thought was impossible by not only coming back from a 3-1 deficet, but by snapping Baylor's record-breaking 57-match win streak. It was not Billy Martin's first turn at holding that trophy either because, as a member of the winning 1975 UCLA team, he has now become the first person to both play and head a winning team.
The miraculous ending to last night's event had a spectacular start. Baylor's two winning doubles teams -- Michael Kokta/Lars Poerschke and Phillip Gruendler/Benjamin Kohlloeffel actually finished simultaneously with the third -- Benedikt Dorsh/Matija Zgaga -- at match point. The huge crowd of Baylor supporters (the school is only a short distance from here) were all set for their team quickly sweep the championships, but that was far from what was to come.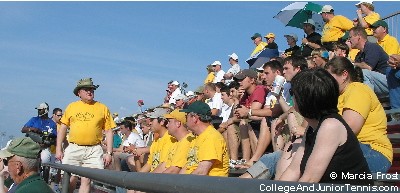 Baylor Fans dominated the stadium
The first UCLA win of the night was the most surprising when Bruin Benjamin Kohlloeffel took out NCAA defending champion Benjamin Becker, 6-4,6-2. As unexpected as that win was, the crowd was not impressed and focused on No. 1 player Benedikt Dorsch as he downed Luben Pampoulov, 6-1,6-4. It was just minutes later that Michal Kokta defeated Chris Lam, 6-4,6-3, and Baylor's second consecutive NCAA championship seemed iminent with a 3-1 lead -- or was it?
It was the final three matches of the night that spoke for what tennis is all about. With two of the matches in a third set and the last two close to call no one was sure what to watch first. Quickly and quietly, Alberto Francis finished out the third set over Matija Zgaga to bring UCLA up a point, but few seemed to think that meant anything. The consensous was that it would happen on court six where Vladimir Portnov was as close as two points from the team's victory. Instead, he lost it in a tiebreaker and we suddenly had a 3-3 event.
The last match standing -- UCLA's Kris Kwinta vs. Baylor's Lars Poerschke -- was worthy of the excitement it created. The crowd grew silent through the long points and games, many of which went deuce time after time. It took him two match points to achieve it, but Kris pulled it out for his team and the fans from Waco went home empty-handed.
Tomorrow the singles draw begins. It is unlikely that anything could match the drama of today's team event, but this is the NCAA Championships so you never know!
Until Tomorrow,
Marcia Frost
Click Here For Full Men's Team Results
Click Here For Stories From Other Days &
Results From The Women's NCAA Championships