Monday, May 28, 2007-Final Day
Singles & Doubles, Finals

The final day of the NCAA Division I Championships at the University of Georgia was a lot like the other eleven -- under a sunny sky and full of surprises.
It all started at high noon with the men's doubles final and what a contest it was. Defending champions Kevin Anderson & Ryan Rowe of Illinois were looking to become the first team to win two doubles championships and it was not going to be easy. Marco Born & Andreas Siljestrom of Middle Tennessee were just as determined and this hard-hitting foursome (who were all above 6'5") really went at it.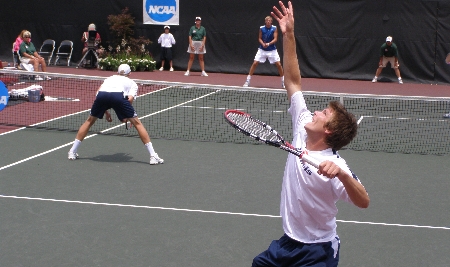 The Illini duo picked up the first break for 5-3 and then the set at 6-4. Marco & Andreas were not about to go down so easily. Despite a few break point opportunities, the second went all the way to a tiebreaker and the Middle Tennessee duo had it at 7-5. The third set was a lot like the second -- great points, long games and no breaks -- until the tiebreaker. The Middle Tennessee duo took the breaker at 7-4 and the first place trophy that went with it. It was the school's first NCAA title and a great send-off for retiring Coach Dale Short.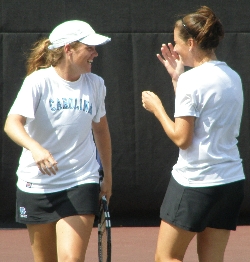 If ever there was a day for strange doubles this had to be it. The women seemed to follow the men, but in more dramatic fashion. The William & Mary duo of Megan Moulton-Levy & Katarina Zoricic came out determined and took the first set 6-1, but the second was an entirely different story. There were deuce games and incredible points, however it belonged to the North Carolina team of Sara Anundsen & Jenna Long, 6-2. The third was a duplicate of the second -- both in the display of talent by all four and the score -- and there were new, all-American doubles champions.
A huge (very loud) crowd of Georgia fans came out to see John Isner give them the NCAA singles title. And, despite having played 17 matches in the past 12 days (only surpassed by Kevin Anderson's 18), he tried his very best to give it to them. Somdav Devvarman of Virginia was a finalist in the men's singles last year, losing to UCLA's Benjamin Kohlleoffel. He was ever so determined not to let that happen again and he came out with his best. The points between Somdav and John were short. There were lots of aces and service return winners. The first set headed into a tiebreaker with two set points to Somdav and John looking exhausted. After a cheering crowd repeated "Let's go Johnny," the Bulldog picked up steam and rallied for a set point of his own. He couldn't hold it, though, and the Cavalier took it 7-6(7).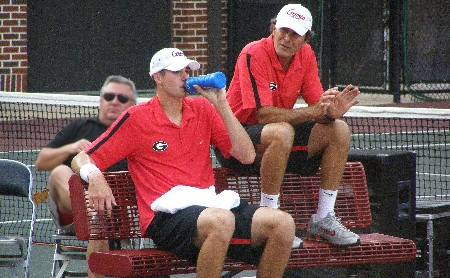 After the first few games of the second set, a clean shirt appeared to give John a second wind and he managed to break. The second set went to Georgia on two controversial "aces" (later shown on video to both be out) and it looked like there might still be a hometown hero.
The third set of the men's singles final was pretty much a repeat of the first, though the points were a bit more exciting as it winded down to yet another tiebreaker. This one was much more Somdav's as one of the best college tennis careers (including last week's team championship after an undefeated Georgia season) didn't end the way John Isner planned it. But it did for Somdav Devvarman -- this year he had his NCAA Championship.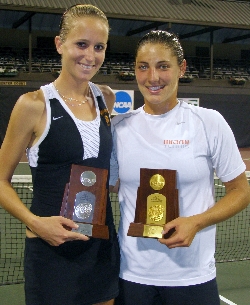 The women's singles final was absolutely nothing like the men's. Lindsey Nelson of Southern California and Audra Cohen of Miami, two Americans who were both previously NCAA singles finalists, began a battle to see who would finally go home with the first prize. When the match began it was really unclear who that would be. In stark contrast to the men, neither could hold their serve long in the first. There were some long points and even a 5-3 lead for Lindsey, but she couldn't close out a set point at 5-4 and Audra came back to even it out and take it at 7-5. The second set also involved long points and deuce games. It was just a few too many errors by the Trojan that cost her the important points. Audra won it 6-2 and quickly went to the net to hug her opponent.
In the end, there was a total of seven different schools winning championships this year with an additional three schools as finalists. It was a testament to the wide-spread college tennis talent in this country that the crowds at the University of Georgia, as well as the viewers of ESPN and The Tennis Channel got to see this year. I can only imagine what next year will bring.
Until Next Year,
Marcia Frost
For Additional NCAA Stories & Photos, check out:
Zoo Tennis
Underground Tennis
GeorgiaDogs