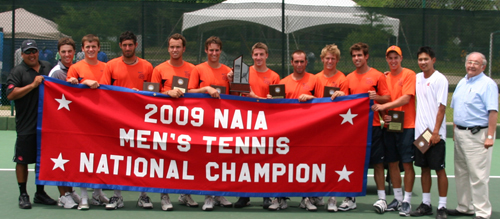 What is it that they say about payback? Well, Auburn Montgomery had their chance -- on the same day. It was an odd turn of events at the NAIA Team Championships as Fresno Pacific kept Auburn Montgomery from the sweep, but not until they beat them!
In the morning at the Mobile Tennis Center in Mobile, Alabama, it was the No. 3 Fresno Pacific men who beat top-seeded Auburn-Montgomery University, 5-3. The Sunbirds lost two out of the three doubles matches, as well as the first singles at #6, but came back from 1-3 down for three straight wins. At a 4-3 Fresno Pacific score that could have gone either way, Francisco Redondo beat Maxime Adam at #5 singles to clinch the Sunbird's victory. It was the Fresno Pacific men's first ever title and it ended the Senators' chance to win their fourth straight championship.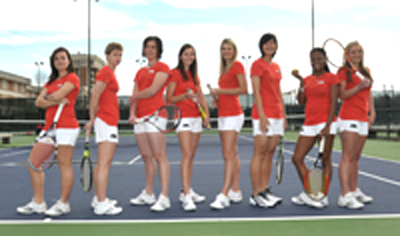 The opportunity wasn't lost in the afternoon play, though, as the Auburn-Montgomery women were able to get revenge for their male counterparts. And they made quite a point. They shutout Fresno Pacific, capturing their sixth straight NAIA Championship -- the last four of which have been over Fresno Pacific in the finals. At the end, Auburn-Montgomery's Coach Scott Kidd was named NAIA Coach of the Year for the fifth year in a row.
Men's Finals
No. 3 Fresno Pacific University 5, No. 1 Auburn University Montgomery 3
Fabio Silva (FP) defeated Victor Sanakai-Papi (AUM), 7-5,7-5
Alex Gonzales (FP) defeated Sadio Doumbia (AUM), 6-3,6-4
Marco Foelz (FP) defeated Monte Tucker (AUM), 6-2,6-4
Maxime Adam (FP) defeated Francisco Redondo (AUM), 1-6,6-1,6-3
Nikola Miskovic (AUM) defeated Jose Hilla (FP), 6-2,6-1
Vicente Joli/Alex Gonzales (FP) defeated Michael Johnson/Monte Tucker (AUM), 8-5
Victor Sanakai Papai/Francisco Redondo (AUM) defeated Marco Foelz/Maxime Adam (FP), 8-4
Nikola Miskovic/Sadio Doumbia (AUM) defeated Fabio Silva/Jose Hilla (FP), 8-3
Women's Finals
No. 1 Auburn University Montgomery 5, No. 2 Fresno Pacific University 0
Tereza Veverkova (AUM) defeated Vanessa Heroux (FP), 6-1,6-1
Dominika Zuzulova (AUM) defeated Brittany Salley (FP) 6-0,6-0 Tereza Veverkova/Delia Sescioreanu (AUM) defeated Katia Sabate/Vanessa Heroux (FP), 8-5
Yi Ching Chen/Julie Verdy (AUM) defeated Maria Klokotzky/Yulia Blinovskaya (FP), 8-3
Dominika Zuzulova/Whitney Byrd (AUM) defeated Elizabeth McFeeters/Brittany Salley (FP), 8-2
Full Draws: Men and Women
Create an Amazon Wedding Registry
---
<
Monthly Guides to
College Tennis Planning
Available in Kindle & Print
Create an Amazon Wedding Registry
Return to:
College And Junior
Tennis Homepage