NYC MAYOR'S CUP ALL SCHOLASTIC CHAMPIONSHIPS
USTA Billie Jean King National Tennis Center - June -12, 2008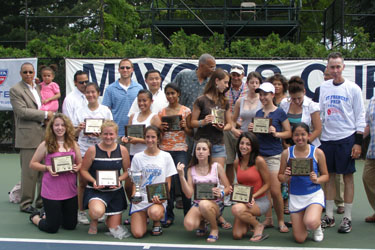 The St. Francis Prep girls were once again the big story during the New York City Mayor's Cup All Scholastic Championships held at the USTA Billie Jean King National Tennis Center.


In the varsity team event, St. Francis Prepatory School of Queens broke the city high school record for the most consecutive wins -- previously 141 -- and finished at 144 victories without a loss. They also captured their 9th straight championship after defeating the Benjamin Cardozo team, 5-0. Leading the St. Francis team was Shinann Featherson, who took her fourth straight varsity singles title with a win over Hannah Berner of The Beacon School. Shinann, who will be attending the University of North Carolina in the fall, was recently named the National High School Girls Tennis Senior Athlete of the Year by the National High School Coaches Association.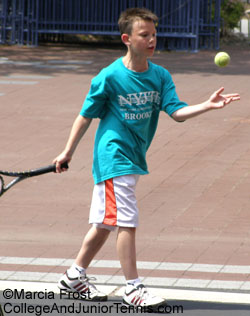 The boys varsity winners were more divided as the Horace Mann team beat Beacon High School in a close 3-2 for the team title. In the boys singles it was The Beacon's Milo Hauk over Asiko Isoh of Queens Gateway to Health Sciences School.

The New York Junior Tennis League (NYJT) began the Mayor's Cup in 1988. It has become the largest scholastic tennis tournament in the nation. This year 600 of New York City's top middle school and varsity players participated in the nine day competition.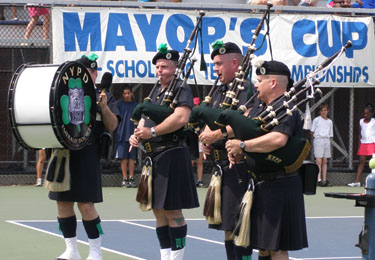 WINNERS
Championships
Varsity Singles Winner
Shinnan Featherston and Milo Hauk

Varsity Singles Finalist
Hannah Berner and Asika Isoh Varsity Doubles Finalists
Michele Davella & Madel Jurlano
David Arroyave & Chris Jimenez

Varsity Doubles Winners
Christine Eng & Kathleen Uy
Len Chenfeld/ Max Segan

Varsity Team Winners

St. Francis Prep Girls and Horace Mann Boys (above)

Varsity Team Finalist
Cardozo High School Girls and Beacon Boys

Middle School Singles Winners
Becky Shtilkind and RJ Del Nunzio (far right)

Middle School Singles Finalists
Ariana Rodriguez and Daniel Kerznerman (right)


Middle School Doubles Winners

Anna & Elizabeth Tsvetkov (above, right)
Hug & Doug Mo


Middle School Doubles Finalists
Isadora Braune & Sara Levy-Lempert (above, left)
Leon Pan & Jeffrey Pan

Middle School Team Winner

Bay Academy (above)


Middle School Team Finalists

Middle School 67


Awards/Scholarship
Andrew Feinberg and Andrew Strasser Award
Champagne Mills and Mauricio Cabral-Perez
Gordon Kent Middle School Sportsmanship Award
Nava Kidon and Wajahat Khan

NYJTL Greg Carrington Award
Marylen Santos

Andre Lahans Award
Christian Waldron

Princeton Review Award
Lisa Ventimiglia

Jana Hunsaker Memorial Award
Annie Hao

Cary Leeds memorial Scholarship
Stacey Lopez and Andre Vorobyov


Kyle Barion Award

Michelle Dalleva (above)

Kae Jones Award

Julia Xu and Jelahni Robinson (above)

Brian Watkins for Leadership Award

Vanessa Charabumi and Kevin Smith (above)

Varsity Academic Team Award
Stuyvesant Girls with 94.56

Hunter College Boys with 91.0 (above)
2007 MAYOR'S CUP
2005 MAYOR'S CUP
2004 MAYOR'S CUP
---