TALKING WITH... MEGAN BRADLEY
August 31, 2001 continued
by Marcia Frost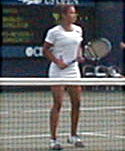 Q: Why did you choose UCLA?
A: "I really like Stella (Sampras). She's a great coach for my game, and for me as well. The campus is unbelievable. It's in Los Angeles, which is one of the hubs for the entertainment industry. That's what I want to get into."
"It (UCLA) offers me a lot of things I am looking for all rolled into one. It was just the best for me all around.
Q: What will you be majoring in?
A: "Broadcasting."
Q: Your father was a college and professional athlete. How supportive are your parents of your decision to go to UCLA?
A: "My parents are probably even more excited than I am. They like Stella and what I want to accomplish."
* * *
For more about Megan Bradley's matches this week, see our 2001 US Open page
---