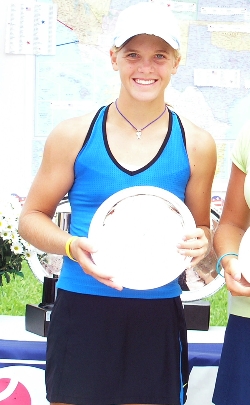 Q: What tournament did you have the most fun at?
A: "I live in Georgia and there's a qualifier every year in Macon. Everybody from our tennis club goes and all my friends are there so it's really fun."

Q: Is there a tournament you haven't played yet that you really want to?
A: "I want to play the U.S. Open Juniors. I'm going to try to get in next year. My coach is entering me this year, but I don't think I'll get in. Next year, definitely.*"

Q: Have you thought at all about your future? Are you interested in playing college tennis?
A: "I would hope to turn pro when I get a little older. I want to do more ITFs first."

Q: Does anyone else in your family play tennis?
A: "My mom played a little bit in college."

Q: Do you have any brothers or sisters?
A: "I am a twin actually. I have a twin sister and a little sister."

Q: Does your twin sister play tennis?
A: "Yes, she does, but she doesn't do the really big tournaments. She just does the local and the Southern."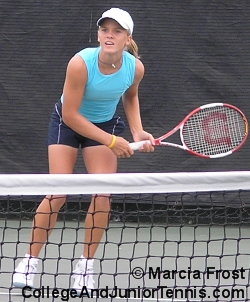 Q: Do you play any other sports?
A: "I like soccer, but tennis takes up most of my time"

Q: What tournament are you going to after this?
A: "I'm going to the U.S. Open to watch and then to an ITF in Georgia."

Q: What else do you do in your spare time?
A: "I like to hang out with my friends when I'm not playing tennis. And playing with my sisters. We've got a ping pong table. We play that and go to the movies."

Q: At what age did you start playing tennis?
A: "When I was about seven, I think."

Q: Where do you train?
A: "At Riverside Tennis Academy in Atlanta."

Q: With anyone in particular?
A: "Just a bunch of boys and girls."

*Melanie Oudin has been given a wildcard into the Junior Open Qualifying.

* * *

back to page one