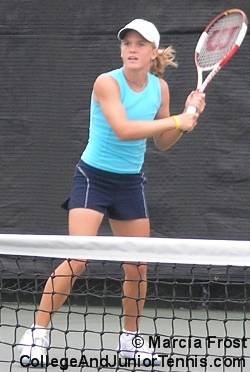 Here's a name you want to remember... Melanie Oudin. Though the Georgian teen has certainly had good results and high rankings every year, she made herself known at the Girls' 16 USTA National Hardcourts.
Six weeks before her 14 birthday, unseeded Melanie Oudin managed to create a stunning five upsets at the Barnes Tennis Center. First to go was No. 17 Laurianne Henry in the third round followed by No. 21 Marianna Khachatrya in the round of 16. Melanie fell to top seeded Reka Zsilinszka in the quarterfinals, 6-4,6-1, but then went on to beat three more seeds in the Feed In Consolation, including a three-set win over No. 12 Shinann Featherston in the finals.
Melanie Oudin's road to the USTA National Hardcourts was not without notice. This year alone she was a singles finalist and doubles semifinalist (with Olivia Maurice) at the Southern Open; a quarterfinalist at the Peach State and the May National Open in Georgia; a finalist at the Chanda Rubin Louisiana and K-Swiss Championships; and a winner at the February National Open in Alabama. In fact, Melanie has been placing in the top eight of multiple USTA national tournaments every year since 2003 -- when she was only 11 years old!
I sat down with Melanie at the Barnes Tennis Center just after her win in the consolation finals. She is a bright and happy 13 year old who has certainly not succumbed to any pressure.
* * *
by Marcia Frost
Q: Did you feel at all intimidated during this tournament since you are only 13?
A: "Well, it's always been like that. I don't give that consideration. It doesn't matter how big you are, it's who is the better player."
Q: How long have you been playing in the 16s?
A: "For the past year."
Q: What has been your best win?
A: "At this tournament (Girls' 16 USTA National Hardcourts) against Laurianne Henry. She's the seventh seed here and top ten in the nation in the 16s."