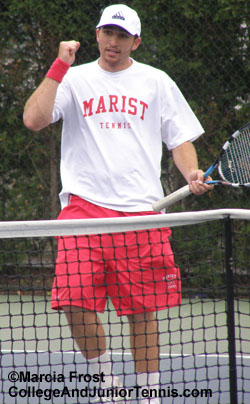 The men's Metro Atlantic League Conference Championships at the USTA Billie Jean King National Tennis Center ended the way it began -- with Marist in the top spot. The Red Foxes claimed their fifth title in six years and finished it in dramatic fashion.
It was an easy road to the finals for Marist as they dropped only three points in route to their final with Fairfield. In the semifinals, they took St. Peters with a score of 6-1 -- five straight set singles victories and a sweep of the doubles. The lone victory for St. Peters came in the No. 1 position as Serge Igel squeaked by Christian Coley, 1-6,6-4,12-10

Fairfield's road to the finals wasn't much different. Seeded three, their tightest match was the semifinal against Niagara which went to 5-2 and was clinched in No. 5 singles when senior Glen Gannon took out Marc Dickinson, 6-3, 7-6(6)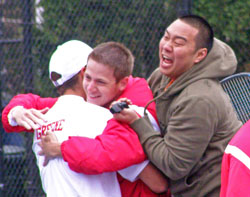 Though Marist has been a regular fixture in the MAAC Championships final, it was Fairfield's first appearance since 2003. Marist took control from the beginning with victories at second and third doubles to take the point. All of the first sets went to Marist with the exception of No. 3, where Fairfield's George Laffey was staging one of the biggest battles of the tournament against Marcus Von Nordheim. As Marist dominated 4,2,5, with Landon Greene clinching it in a 6-1,6-2 victory over Chris Piasecki. It was decided that the George Laffey-Marcus Von Nordeheim match would continue, with Marcus taking the second set 7-6(3) and finally a 10-4 third-set tiebreaker, giving Marist a 7-0 final score. They finished just in time for the Marist-Fairfield Women's final.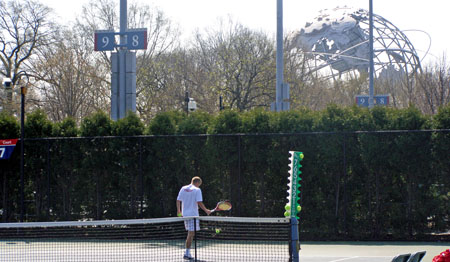 There's one thing that the Metro Atlantic League Conference Championships has that no other Conference Championship can claim -- location, location, location. There's no where else you can claim a conference title, under the World's Fair Globe, on the courts that the best players in the world played.

Until Next Year,
Marcia Frost

P.S. If you are interested in obtaining any photographs from the Metro Atlantic League Championships, contact Marcia@MarciaFrost.com.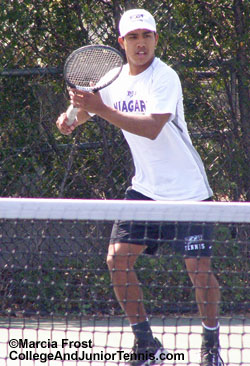 Walter Garcia
Niagara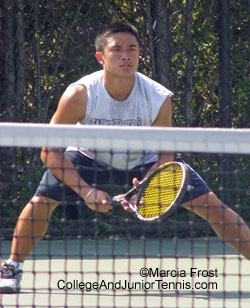 JJ Gramatica
St. Peters
Greg Marks
click on a photo to enlarge

George Laffey
Fairfield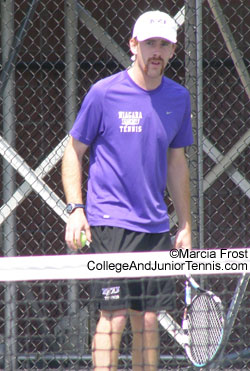 Marcus Dickinson
Niagara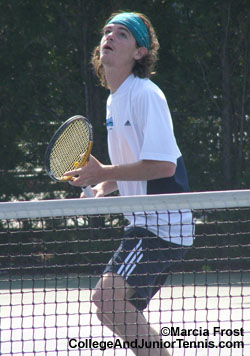 Tony Wilkey
St. Peters


Christopher Coley
Marist


Chip Palumbo
Fairfield


Collin Laffey
Niagara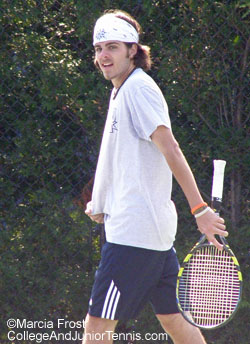 Jake Baranowski
St. Peters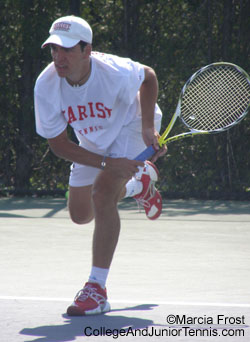 Loic Sessigesmi

Glenn Gannon
Fairfield
Check the new TripAdvisor for great deals on hotels







v





Create an Amazon Wedding Registry
Return to:
College And Junior Tennis