The Marist women captured their second consecutive Metro Atlantic League Conference Championship with a shutout of Fairfield. The match was the grand finale of the tournament's top seeds.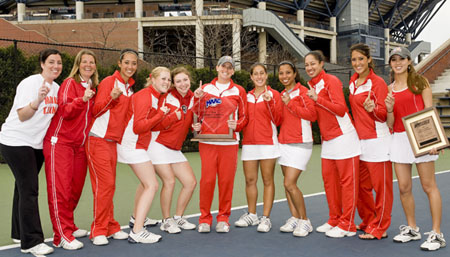 During the tournament, the only point the Red Foxes lost was during their semifinal against Loyola. Among the quick, straight set victories was the lone Loyola win at No. 6, where Lauren Cassle took out Emily Zampello, however, there were some great (and long) points throughout the matches.
In earning their finals berth, No. 3 Fairfield had a 4-1 upset victory over No. 2 Niagara after capturing the doubles point and taking straight set wins. For Fairfield, who were also playing the Men's final, it was their first trip to the finals since 2004 -- when they captured the crown.



Unfortunately, I was called away and missed the final match, but I saw enough of the Marist women's solid play over the weekend to guess that the straight set victories across the board to the 7-0 finish were probably indicative of the story. Then the Marist women got to once again hold their trophy under Arthur Ashe Stadium at the USTA Billie Jean King National Tennis Center.
Until Next Year,
Marcia Frost
P.S. If you are interested in obtaining any photographs from the Metro Atlantic League Championships, contact Marcia@MarciaFrost.com. Photo of Marist women by Stockton Photo, Inc

click on a photo to enlarge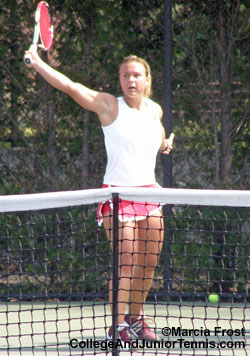 Paulina Rys
Fairfield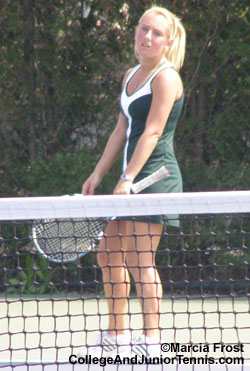 Lauren Cassle
Loyola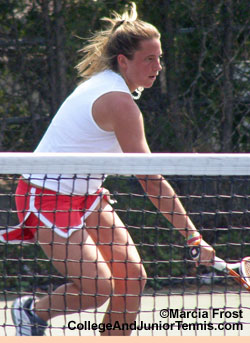 Raquel Socis
Niagara


Alexis Stranger
Marist


Alyssa Ruiz
Fairfield
Check the new TripAdvisor for great deals on hotels







http://www.collegeandjuniortennis.com/USOpen10.htm




Create an Amazon Wedding Registry
Return to:
College And Junior Tennis