Sunday, October 10, 2004
Day Two
It was a day full of suprises as none of the top-seeded singles players survived. *Here is a recap:
"A" Singles-No. 1 seed Aniela Mojzis of North Carolina lost to Maryori Franco of Arkansas. Finals will be between two unseeded players -- Kim Coventry of Kentucky and Preethi Mukundan of Harvard;
"B" Singles-Melissa Anderson earned her place in the final against Harvard teammate Celia Durkin after she defeated top-seeded Blakeley Griffith of Tennessee;
"C" Singles-The No. 2 seeded Nicki Mecham of Texas A&M made it to the finals to face Jenna Long of North Carolina, who eliminated No. 1 Laura Mauer of Kentucky;
"D" Singles-Michelle Patler of Brown, who defeated top-seeded Lisa Sober of Kentucky yesterday, will play Caroline Winebremer of Kentucky for the title;
"E" Singles-Two Princeton players face-off in the finals -- Christine Kansky and Laura Trimble. Christine defeated No. 1 Emily Yeomans of Boston College.
In the doubles, however, seeding did hold. Kendall Cline and Aniela Mojzis of North Carolina will play tomorrow against Melissa Anderson and Celia Durkin of Harvard for the "A" crown. Sara Anundsen and Jenna Long, also from NC, will meet the unseeded duo of Natalia Arcario and Christine Kansky of Princeton. The "C" doubles draw was completed today with Milena Kachar and Kara Worsley of Columbia defeating Helen Magomedova and Ketevan Shmakova, 9-8(5).
I plan to be at the Tennis Center for tomorrow's finals to see this great display of women's college tennis. We'll see who walks away with the trophies in the end!
*Full Draws To Come
Saturday, October 9, 2004
Day One

The USTA National Tennis Center, home of the US Open, is host this weekend to 170 players from 22 teams for the 2nd Annual NTC Women's College Tennis Invitational. The three-day event is run by the Tennis Centers' Director of Tennis, Bill Mountford, and features some of the top women's college players in the country.
They came from as far as Texas and as near as New Jersey to compete in the six singles and two doubles draws. The day began a bit cloudy and chilly, but the sun came out as the matches moved on with few surprises.
The top seed from the "A" singles, Aniela Mojzis of North Carolina, advanced easily in her first round match against Yale's Rashmee Patil, but had a tougher time when Tennessee's Vicky Jones pushed her to a third (tiebreaker) set. Other seeds in that draw were not so lucky as Helga Vieira (Texas A&M), Nida Waseem & Szilvia Szegedi of Boston College and Sabita Maharaj (Tennessee) all fell. Alpha seeded Kendall Cline of North Carolina easily moved into the quarters with 6-1,6-1 and 6-0,6-0 wins.
I caught up with some local players who were trying to make their marks on their home turf. Cornell's Melissa Tu eliminated seed Grace Blakely of South Carolina in the "D" draw before losing to Princeton's Brittany Holland. Freshman Julia Koulbitskaya (U Penn) had a good win against Anna Lubinsky (Texas A&M) in the first and lost to Joelle Schwenk (Kentucky) in the second. Megan Zebroski, another freshman New Yorker who is now playing for Dartmouth, had an easy time in the first round against Caitlin Arounld (Boston College), but was forced to retire in her next match to Whitney Morton (Arkansas).
There's a lot more tennis coming up at the USTA National Tennis Center through Monday. Check back here for more stories, results and photos if you can't go down there and check out the action in person.
Marcia Frost

Stephanie Cohen

Julia Koulbitskaya

Anna Lubinsky

Grace Blakely
Click on a photo to enlarge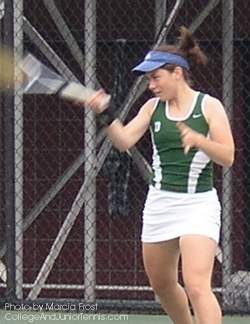 Megan Zebroski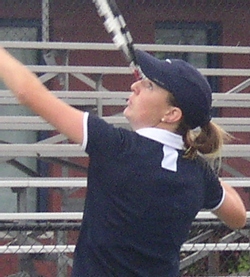 Kendall Cline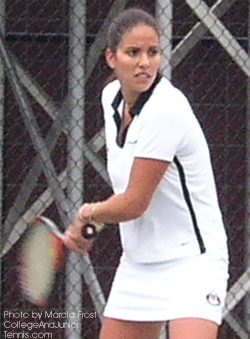 Szilvia Szegedi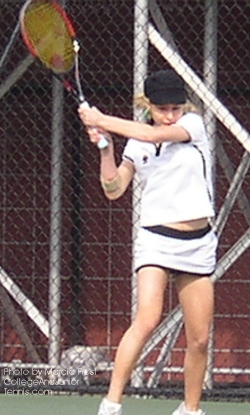 Caitlin Arnould
Christyn Lucas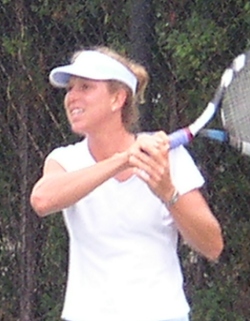 Joelle Schwenk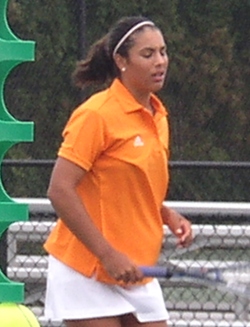 Sasha Abraham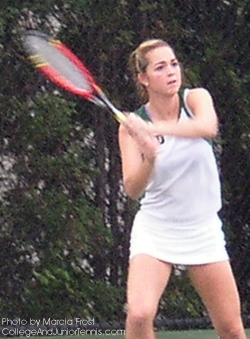 Sarah McNally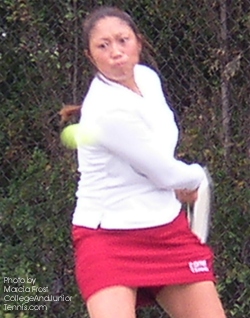 Melissa Tu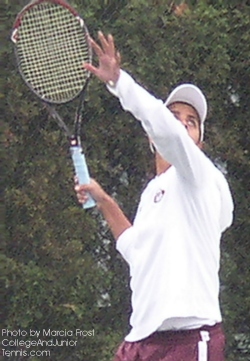 Nida Waseem
---
---
---
SportMinder-a journal to log lessons, clinics, match play, tournaments & fitness training
---
The Mental Athlete
See A Review
---
CampusDirt.com: College Life Uncensored
---
---
TENNIS HUT
---
---
---
---
---
---
---
---
Return to:
College And Junior
Tennis Homepage