Monday, July 14, 2008-Day Two-Boys' 18s
I've been doing daily coverage of tournaments for years, but this is the first time I've ever covered five events at eight locations. On paper, it looked easy alternating each day so I could get some pictures and coverage of the Boys' 18s,16s 14s and Girls' 14s,12s, but nothing is ever as simple as it looks -- especially when "Mother Nature" intervenes.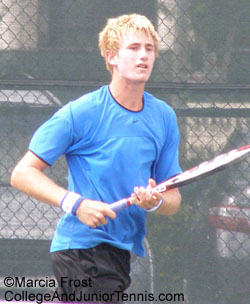 The Delray Beach Tennis Center is a familar place to me as I've come here almost every year for the USTA National Spring 12s Championships. It seemed like the perfect place to start my Claycourt odessy, with the Boys' 18s. I checked out a bit of Joey Burkhardt vs. Bryan Welntz for some good points that would eventually lead it all the way to 6-3,3-6,7-5 for 13th seeded Joey's favor. I also got to see Tennys Sandgren for the first time in awhile and he certainly still has it. Tennys, who dominated the Boys' 16s last year, is making the transition well and didn't take long for his win over Taylor Albrecht with a host of college coaches front and center.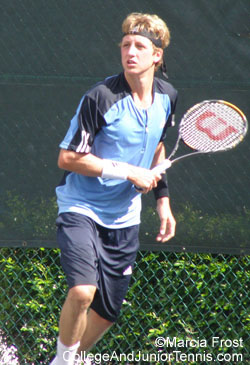 After more pictures and catching up with new and long term coaches (Georgia Coach Manny Diaz and I spoke a bit about John Isner's great run at the Campbell's Hall of Fame Championships) I finally sat down for a while to watch Denis Lin vs. David Holiner. The match appeared to be rather close despite the lead for the fifth-seeded Denis. Unfortunately, I didn't get to see much before the heavy rain came. (The match was eventually finished in the seed's favor, 6-4,6-1.)
After a few hours of watching the rain through the window and catching up on work, I ventured out to a number of sites for sporadic tennis matches between drops. Unfortunately, there wasn't a lot of play anywhere and no Boys' 18s doubles went on.
On Tuesday I will be in Fort Lauderdale where my former PWTA co-worker Susan Krowitz is running the Boys 14s with Thomas Krukiel.Let's just hope the rain stays away.

Until Tomorrow,
Marcia Frost

P.S. Check out Zoo Tennis for Colette Lewis's coverage of the Girls' 18s.

Boys 18s Full Draws

Stories, Photos & Results from other Nationals Photos from top: Joey Burkhardt, Tennys Sandgren, David Holiner
If you are interested in obtaining any photographs from the USTA National Claycourts, contact Marcia@MarciaFrost.com.

click on a photo to enlarge
Andy Wang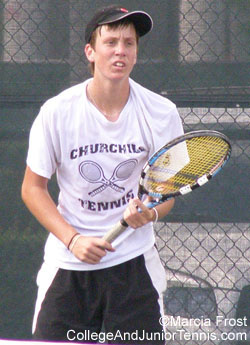 Bryan Welntz
Denis Lin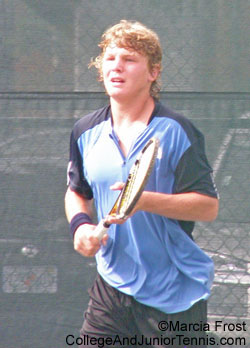 Jordan Cox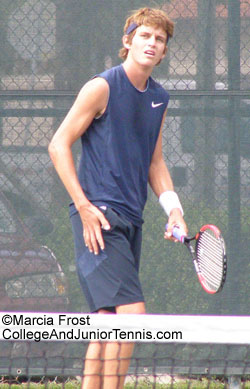 JT Sundling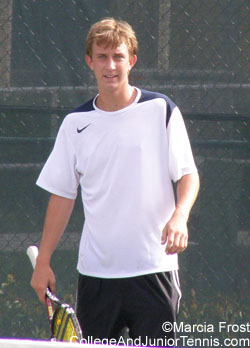 Michael Moore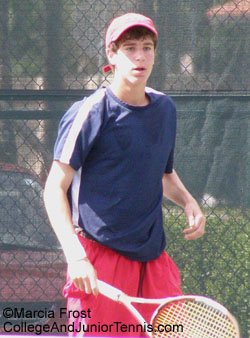 Sam Fife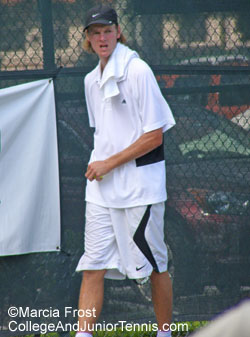 Taylor Albrecht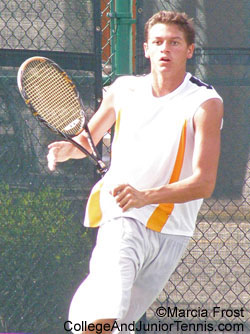 Wyatt Lipert
We search millions of flight and hotel combinations, to get the best deals. Yes! Getaways makes booking your next vacation as easy as it can get - BOOK TODAY at Yesgetaways.com!
---

Monthly Guides to
College Tennis Planning
Available in Kindle, Print & EBook
for H.S. Seniors
and H.S. Juniors
---
Monthly Guides to
College Tennis Planning
Available in Kindle & Print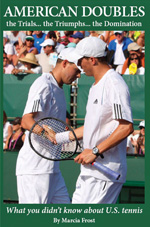 ---
---
Return to:
College And Junior Tennis