Friday, August 12, 2005
It's crunch time at the Barnes Tennis Center as the final group heads into the Girls 16 USTA National Hardcourt Championships.
While many huddled under jackets and pants, I welcomed the 70 degree non-heat after the desert like conditions in Northern California I had over the last eleven days. For the players it was ideal weather for the quarterfinal tennis. Top-seeded Reka Zsilinska was challenged by unseeded Melanie Oudin, who had upset No. 21 Marianna Khachatryan yesterday and No. 7 Laurianne Henry in the second round. Today she came out with an aggressive game to shock Reka in the first set and take the first three games. Though she did continue to fight back, the No. 1 seed took the rest of the games and the match, 6-3,6-0.
I expected a much closer match between Lyndsay Kinstler and Mallory Burdette, but the youngest Burdette just couldn't get her game together. The fifth seed struggled through the points before succumbing to the third seed, 6-3,6-2. It was a similar situation and a quick match as No. 4 Maria Sanchez took down No. 20 Natasha Makarova, 6-1,6-4, but No. 16 Whitney Taney and No. 8 Chloe Jones had a much closer match than the 6-3,6-3 score showed. It was Chloe who earned her place in the semis.
In doubles, second-seeded Lindsay Clark and Shinann Featherston, who had played and won two consolation matches earlier in the day, fell to the unseeded team of Stephanie Davidson and Maria Sanchez. No. 8 Cameron Hubbs and Natasha Makarova are the only remaining seeds in that draw at No. 8.
The mood here in San Diego is much more subdued than that at the Girls 18s. Perhaps it is the lack of dozens of college coaches (there are a few here), or maybe it's just laid back Southern California, but there is more support for the remaining girls from hometown rivals and even previous opponents. We'll see if the pressure of competition increases as we near the end.
Until Tomorrow,
Marcia Frost

Jacqueline Wu

Mallory Burdette

Lyndsay Kinstler

 


Melanie Oudin

Logan Hanson

Maria Sanchez
Click Here For The Full Draws
click on a photo to enlarge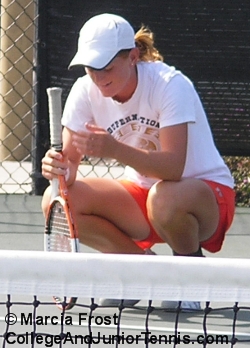 Lindsay Clark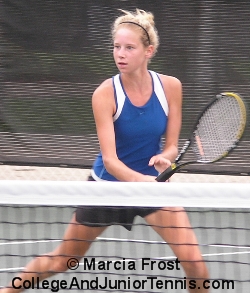 Whitney Taney
Alison Ramos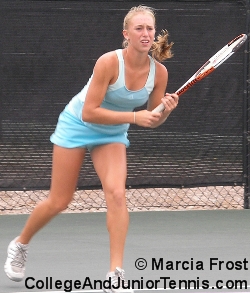 Alexa Guarachi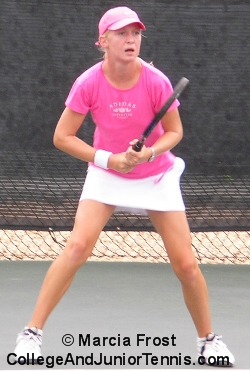 Julia Boserup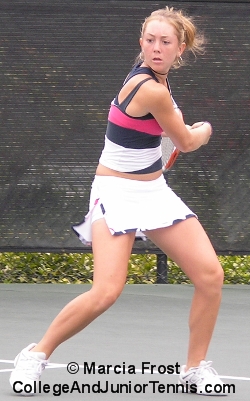 Lauren Embree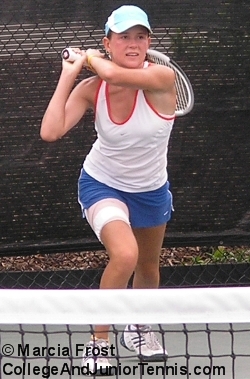 Natasha Makarova