| | |
| --- | --- |
| Eleanor Peters | Hillary Collins |
Wednesday, August 6th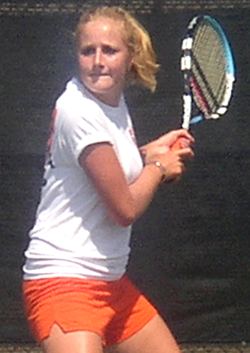 It was a busy day at the Barnes Tennis Center as all three draws were in play starting first thing in the morning. Though there were few surprises, there was still a lot of excitement.
The only player to be upset today in the main draw was nineteen-seeded Alli Krasnopolsky who lost two close sets (7-5,6-4) to Taylor Marable. Taylor has been playing extremely well all tournament and is on her way to earning back her place as one of the top players in the country.
Among the consolation matches, I saw one today that stood out. Unseeded Rachel Del Priorte -- pictured right -- managed to inch by Melissa Saiontz (who had been seeded fourth in the main draw) in an exciting marathon that ended in Rachel's favor, 6-3,5-7,7-5. Unfortunately, Rachel did not make it through the challenge of Leigh Finnigan in the following round. Doubles seeds moved on today into the quarters.
Once again, all of the events ran smoothly. Tournament Director Anne Podney and her staff have done an incredible job keeping things moving (and the players happy) at the USTA Super National Girls' 16s Hard Court Championships. It has been a pleasure to cover this event.
Marcia Frost
P.S. Tomorrow morning I am off to San Jose to begin my live coverage of the Girls' 18s and we will, of course, have results from all of the other Hardcourts.