Saturday, August 13, 2005
One week ago 197 girls descended on the Barnes Tennis Center for the Girls 16 USTA National Hardcourt Championships. There are now thirteen girls left. Thirteen 16 and under players who have earned their way to tomorrow's trophies.
There is no doubt that the star of this show is Maria Sanchez. The No. 4 seed has made her way to the finals without the loss of a set. Today it was Chloe Jones who she eliminated. Playing on stadium court appeared to be a bit daunting for the No. 8 seed as Maria took the first eight games, mostly from unforced errors. Though Chloe played a bit more aggressively in the second set and had it up to 2-2, Maria was not off her game and took the match, 6-0,6-2
Singles was not the only place that Maria Sanchez was showing her talent. She teamed with partner Stephanie Davidson to defeated Mallory Cecil and Lauren Meier to earn a place in tomorrow's final as an unseeded duo. They will face Courtney Clayton and Logan Hanson, who (also unseeded) squeaked by Cameron Hubbs and Natasha Makarova, 6-3,6-7(2),6-4.
What exactly happened in the other semifinal I am not sure. It appeared that top-seeded Reka Zsilinszka would continue on to the final with no problem after winning the first set 6-3, but Lyndsay Kinstler came back in the second and turned up the pressure. As the crowd gathered, Lyndsay grew more determined and though it was most often a drop shot that earned her points, she did earn them to take the second and then dominate the third. Lyndsay's 3-6,7-5,6-3 win puts the No. 3 player into the finals against Maria.
I don't feel enough credit is given to the consolation players who have to play two matches a day (three if they play doubles) to get through the feed-in. One player who worked especially hard today was Shinann Featherston, who survived Natasha Makarova, 3-6,6-4,7-6(2), and then came out an hour later and beat Lauren Embree, 7-5,6-4. In the fifth place playoff she will face Melanie Oudin. Melanie earned her place in that final with a 6-2,6-2 defeat of Julie Boserup and a 6-3, 5-1 retired finish against Rebecca Kwan.
As my final day of coverage is near, I am excited to see the end results of all the play I have watched over the past two weeks. I have no doubt that the 16s matches at the Barnes Tennis Center will be good ones, but I'm also keeping an eye on the Almaden Valley Athletic Club where, as I predicted, Alexa Glatch and Mary Gambale are playing for the 18s.
Until Tomorrow,
Marcia Frost
Click Here For The Full Draws
click on a photo to enlarge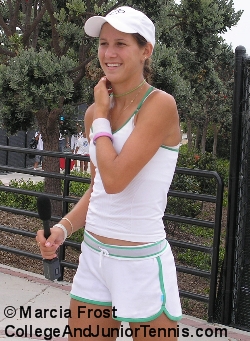 Maria Sanchez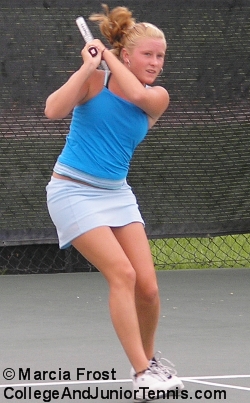 Shinann Featherston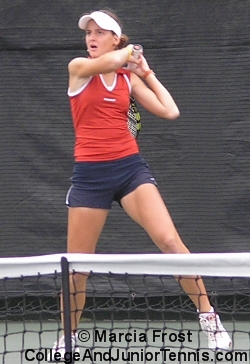 Reka Zsilinszka
Courtney Clayton
Cameron Hubbs
Chloe Jones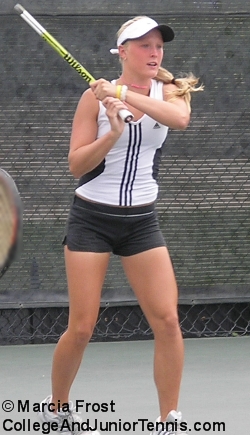 Mallory Cecil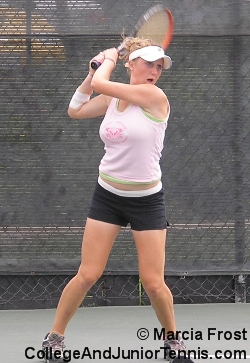 Lauren Meier