Thursday, August 11, 2005-Day Five -- My Final Day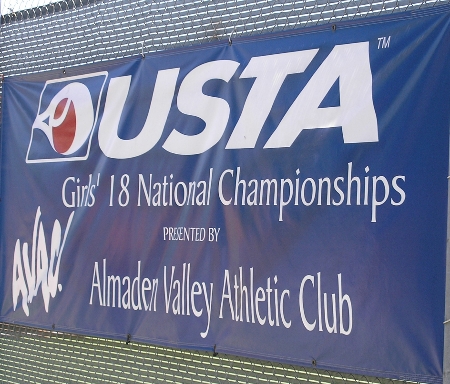 Today was my final day at the Almaden Valley Athletic Club for the USTA Girls 18 Nationals and I was determined to catch at least a little of the final 16 main draw matches. I wanted to leave with the best idea possible of where this tournament was going and I think I did.
Alison Riske, the lone unseeded player left in the draw, put up a fight against top-seeded Mary Gambale that was stronger than the 6-2,6-0 score showed, but it was just not enough. Many of the girls here have described Mary as the one who "doesn't miss anything," and the times I've seen her play her that was pretty true. She has really matured as a player since I last saw her in San Jose. The same holds true for Andrea Remynse. The Michigan native caused quite a stir here last year with her unusual play. This year she is much more focused and, though she did lose the first set 4-6, she got her act together much quicker than usual to take the next two, 7-5,6-1.
Meghan Alexander and Colleen Rielley played on an even plateau throughout the match, but Meghan had a bit of an edge, winning the critical points. It took her three sets (1-6,6-2,6-1) to move into the quarters. Sarah Fansler was the clear leader to Madison Brengle, 6-4,6-3, and Vania King totally dominated Kristen McVitty, 6-1,6-0.
Although I have always thought of her as one of the strongest players out there, I was surprised to see Lindsay Burdette so clearly dominate Julie Cohen. Julia, who has been plagued by injuries this past year, had been playing very well this week and I expected a little more than her 6-1,6-3 loss. Alexa Glatch, on the other hand, is solid as can be. Her time on the pro tour has tuned her game and added more grace and accuracy to her strokes. I've always been impressed by her and today was even more so. I'm sure the match between her and Lindsay tomorrow will be a good one.
I usually don't make predictions at tournaments, but I'm guessing it's a safe bet that we are going to see the top two seeds -- Mary Gambale and Alexa Glatch -- here on the final day. It's an even safer bet that I will be back here again next year to cover this great event!
Until Next Year,
Marcia Frost
Click Here For The Full Draws
Click Here For The Official USTA Nationals Girls 18 Website
Click On A Photo To Enlarge
Alison Riske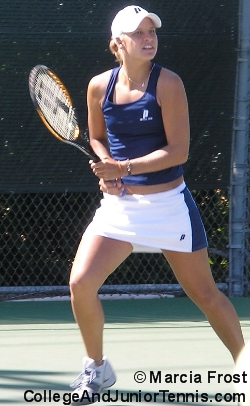 Meghan Alexander
Colleen Rielley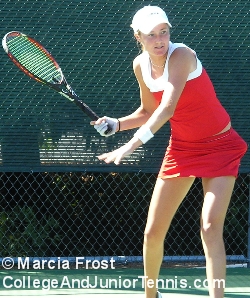 Sarah Fansler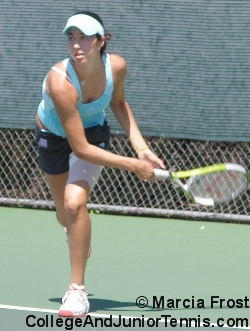 Yasmin Schnack
Elizabeth Plotkin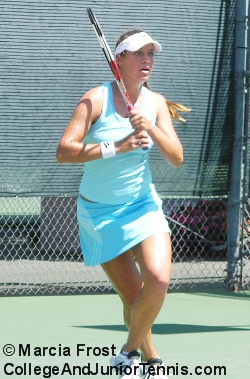 Lindsay Burdette
Alexa Glatch
Monthly Guides to
College Tennis Planning
Available in Kindle & Print
Return to:
College And Junior
Tennis Homepage