Sunday, August 7, 2005-Day One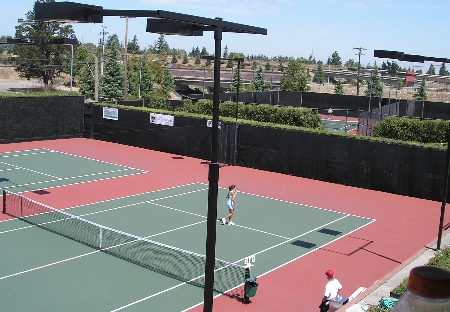 It's day one at the USTA National Girls 18s and the excitement is everywhere. Two hundred girls, along with parents and coaches gathered at two sites for a full day of tennis. Things couldn't have gone smoother.
This tournament is unique in that it is the only National run entirely by volunteers (except the officials). Nearly 200 volunteers (about one per player!) work together to keep the matches going, the drinks flowing and the players moving in clock-like precision. Over the tournament's first few days the Los Gatos Swim & Racquet club hosts a good many of the matches so there is an equally accurate tournament headquarters housed there.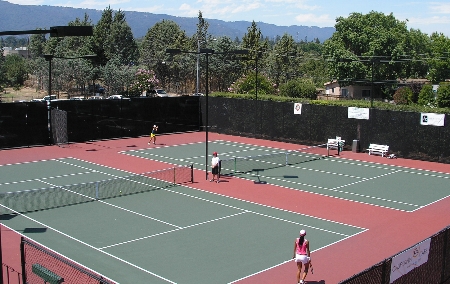 As for the day's matches, there were no seeds playing today so there were no clear upsets, but the seeding was something that was discussed quite a bit among the players. The introduction of professionals into the event brought in three out of the four top seeds -- Mary Gambale, Alexa Glatch and Krysty Marcio -- eliminating the seeding placement of a few top players. One such example that was creating buzz around the event was Lena Litvak. The New Yorker, who was fifteenth on the July National Championship Selection List and is currently nine on the standing list, was not seeded and lost yesterday in the first round to Randi Schuler. That was certainly a match that would have been considered an "upset" had Lena received the seeding. (Though had she been seeded she wouldn't have even played today, she would have gotten a bye.)
There is no easy answer in the seeding when you are adding players that are no longer playing USTA junior tennis yet are highly ranked in the world rankings and making their way through the professional world. It will be interesting to see if one of these players wins this tournament the way Jessica Kirkland did last year. I'll see plenty more in the days to come to make a better prediction on that.
Until Tomorrow,
Marcia Frost
Above: The courts at Los Gatos Swim & Racquet Club
| | | |
| --- | --- | --- |
| Erin Young | Lauren Caire | Jennifer Yen |
Click Here For The Full Draws
Click Here For The Official USTA Nationals Girls 18 Website