Monday, August 8, 2005-Day Two

It's another bright and sunny day in Northern California and things couldn't be any better at the Girls 18 Nationals.
The college coaches are everywhere. For many girls it is time for them to show off their talent, but it is also a time of great stress for many others. I've watched quite a few talented players in the last few days succumb to the pressure. It's all part of the world of junior tennis, though, and the coaches know that as they watch and study their future recruits. It is also interesting to watch the relationships among the coaches as they continue a very friendly rivalry!
I started the day at Los Gatos Swim & Racquet Club where I stumbled upon Lauren Lui and Lauren Albanese. At any other tournament you might have seen these two wind up playing each other in a final (or at least a quarter), but this is the strongest USTA National Junior event there is and it was a second round match. Despite that fact, it was Lauren Albanese who lived up to her 17th seeding by taking it, 6-4,6-1.
There were some real challenging matches today over at the Almaden Valley Athletic Club. One of these was a seemingly endless marathon between Maggie Mello and another seventeen seed, Yvette Hyndman. The points were long and close throughout the first two sets, but Maggie closed it out, 5-7,6-4,6-2. Sanaz Marand definitely put up a stronger fight than the 6-4,6-3 score showed in her loss to fifth seeded Julia Cohen. Lauren Holzberg, on the other hand, had no chance fighting second-seeded Alexa Glatch. It took the fifteen year old professional only 40 minutes to her 6-0,6-0 win. Lauren was a very graceful loser, just shaking her head and smiling at match point before she went to the net to congratulate Alexa.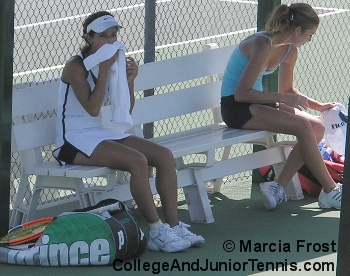 Nazlie Ghazal did her best to hang in there and play through an injury, but a visit from the trainer was not enough to keep her going and she retired against Keilly Ulery, 3-6,6-2. Until that point the only other casualty of the tournament had been Sarah Lancaster yesterday. (Sarah had played her heart out last week at the Junior Fed Cup, helping her team reach the finals.)
Tomorrow will be another long day of matches here in San Jose. As he draw progresses I'm expecting to see a lot more surprises -- and a lot more great tennis!
Until Tomorrow,
Marcia Frost
From top: The Deck at Los Gatos Swim & Racquet Club; One of the Decks at Almaden Valley Athletic Club; Injured Nazlie Ghazal with opponent Keilly Ullery
Click Here For The Full Draws
Click Here For The Official USTA Nationals Girls 18 Website
Click On A Photo To Enlarge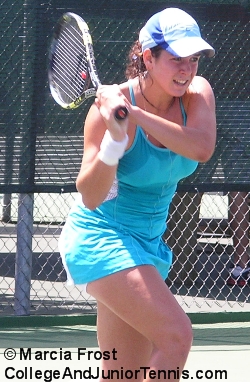 Julia Cohen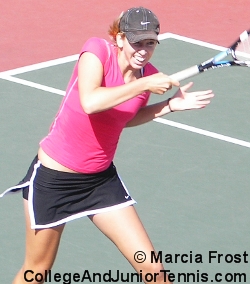 Brittany Blalock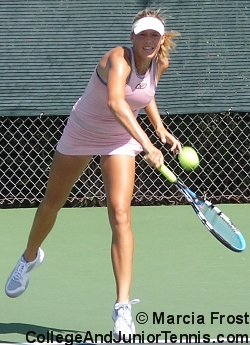 Yvette Hyndman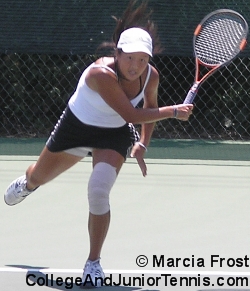 Sarah Huah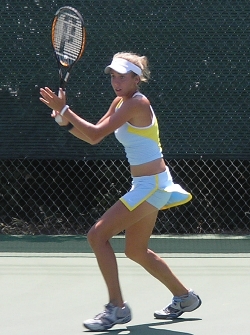 Jessica Wente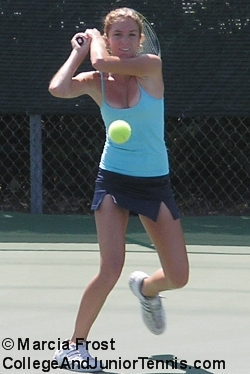 Keilly Ulery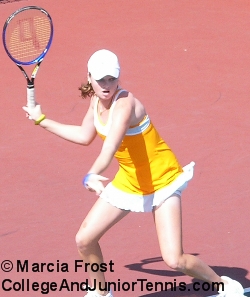 Kim Couts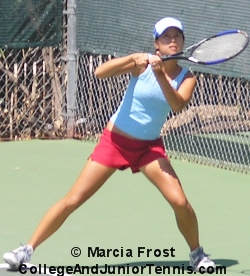 Jessica Nguyen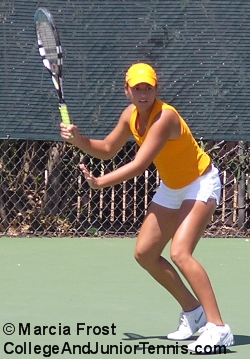 Krysty Marcio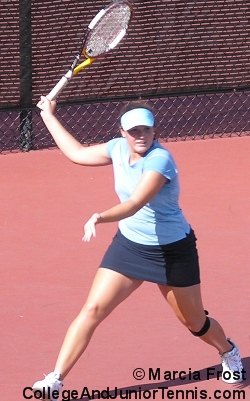 Noelle Hickey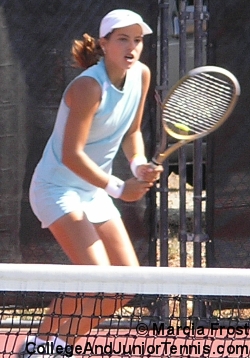 Lauren Albanese