Wednesday, August 10, 2005-Day Four
It doesn't happen very often in the world of junior tennis, but the USTA Girls 18 Nationals is in the round of 16 with only one unseeded player. The unseeded spot is occupied by Alison Riske, who earned it by eliminating Ragini Acharya. (Ragini beat No. 16 Eleanor Peters yesterday.)
The girls have definitely raised the bar on their level of play showing that they belong in the final 16. The most exciting display of perseverance I saw was Catherine Newman vs. Kristen McVitty. Though Kristen is seeded at fourteen, Catherine was last year's Girls 16s Nationals winner and she is more than ready to move her game to the 18s level. She commanded the first set, 6-4, and kept up the pressure in the second before Kristen took over and outplayed her to 6-2. In the third it was up for grabs as Catherine whipped the forehands and rushed to net, while Kristen managed to get to every ball. It was settled by a tiebreaker which the seed took.
There were two quick baseliners going at it on Court 8 -- No. 17 Ellah Nze and No. 3 Vania King. At the start it looked to be a close match, but Vania took over for a 6-3,6-0 win. It was the same score and a similar situation between No. 15 Madison Brengle and unseeded Jill Damion with the seed prevailing.
Once again the backdraw provided the most exciting match I saw today. Katja Decker-Sadowski played for an incredible three hours against Christina Liles, ending in a crowd-pleasing third set tiebreaker. Amazingly, she had enough left in her to go back out on the court in the afternoon and eliminate Lena Litvak, 6-4,6-4.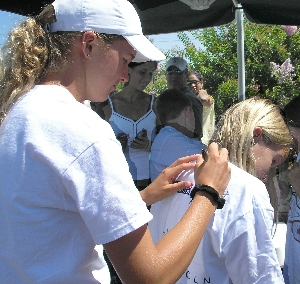 Today was Kids Day at the Nationals as the tournament played host to the After-School Allstars -- a program funded by the Nationals. Over 100 children had the opportunity to interact with the players are get autographs on their tee shirts.
I have to confess that I took a few hours off this afternoon (hey, I haven't had a day off in months!) to spend with my nieces and nephew so I did not see any of the late afternoon matches. Though everyone moved on without a hassle, I did miss Alexa Glatch give up the first games of this tournament for her as she beat No. 17 Jennifer Stevens, 6-2,6-0.
Tomorrow will be a world wind of activity for me as I spend my last few hours at the Girls 18 Hardcourts before I hop a plane to San Diego to catch the end of the day at the Girls 16s Hardcourts. (I will remain at that tournament until the end.) I'm sure I'll have plenty more memories of exciting tennis to take with me from tomorrow's morning matches as we head into the final sixteen.
Until Tomorrow,
Marcia Frost
P.S. I was disappointed to learn from Jay Louderback, Notre Dame coach, that the United States team that included his players (who happen to be my favorite tennis-playing twins -- sorry Bob & Mike), Catrina & Christian Thompson, will not be heading to the World University Games in Turkey. Security reasons have been cited and I am trying to get more details.
Click Here For The Full Draws
Click Here For The Official USTA Nationals Girls 18 Website