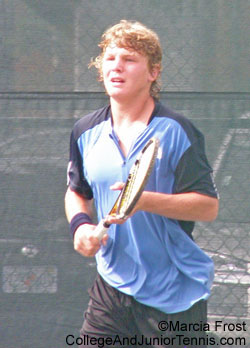 Sunday, August 10, 2008-Final Day
Congratulations to Boys' 18s Singles Winner Austin Krajicek and Doubles Winners Chase Buchanan & Ryan Harrison; Boys' 16s Singles Winner Jordan Cox (right) and Doubles Winners Evan King & Raymond Sarmiento. For details on those matches, visit Zoo Tennis.
Wednesday, August 6, 2008-Day Six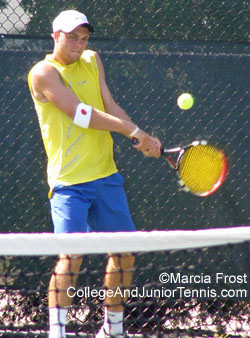 It was my final day at Kalamazoo before heading off to Berkeley to watch the Girls' 18 Nationals, but I was lucky enough to have an afternoon flight so I could catch some of the best matches of the tournament.
I can't imagine anything on Wednesday comparing to Ty Trombetta (6) vs. Dennis Nevolo (11) (left). I arrived after Ty had taken te first set, 6-3. The second was on serve through some exciting points and close games that led into a tiebreaker. Dennis led the breaker from 2-1 on and took it quite easily at 7-2. But that would be the only easy part of the entire match. Set three was full of incredible shots by both players and once again was tied at 6-6. Unlike some of the matches of the week that had the crowd on their feet cheering, this one was so suspenseful few got out of their seats. There was no leader in the breaker until Ty's 5-4. Dennis saved a match point at 6-4, before succombing 7-5. It was the end of Kalamazoo for Dennis, a five year veteran of the tournament, as he and partner Drew Courtney also lost in doubles. (Dennis is heading to the University of Illinois and Drew will be attending the University of Virginia)
Top-seeded Ryan Harrison faced quite a challenge from Alex Llompert (21), even dropping the first set, 6-4. In the second, it was all Ryan, due to a combination of his effort (a lot more pumping going on) and a wrist problem of Alex's. He shut out the set and, despite a visit from the trainer for the injury, the No. 1 seed was too much for Alex and Ryan moved into the quarters.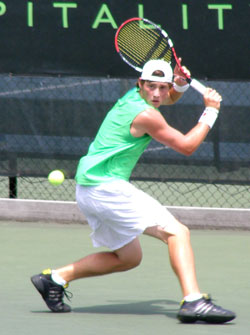 It was yet another straight sets victory for Boys' 18s No. 2 seed Chase Buchanan. This time he eliminated the final unseeded player, Ian Chadwell (right). Chase is the only player in the draw to have not lost a set and he's looking well-rested. For Austin Krajicek it was a day of mixed emmotions as the No. 5 seed pulled out a tough 6-4,3-6,6-4 victory ovver Steve Johnson that was every bit as close as the score, but in the afternoon, he and partner Jarmere Jenkins (the No. 1 seeds) were upset in doubles by Ryan Thacher & Rhyne Williams. Jarmere also dropped his singles match to Ryan in three. And I saw a bit of Rhyne Williams' great play in a well-fought 1-6,7-6(6),7-5 over Alex Domijian.
I'm not quite sure what happened in the Adam El Mihdawy (3)-Wil Spencer (16) match. When I left it, Adam had taken the first (6-2) and had aced his way to a 2-0 second so I was surprised to see that he didn't take it until after losing a tiebreak second and coming back in the third. I did not get to see the last of the 18s matches, where No. 7 Bradley Klahn beat No. 13 Kyle McMorrow, 6-3,6-2.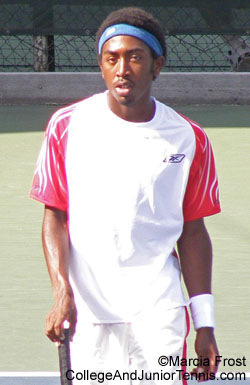 There was only one 16s match that I was able to watch and that was second-seeded Evan King vs. Nathan Pasha (16). It was an interesting match up as both boys train at the USTA center in Boca Raton, and both won this year's National Claycourts -- Evan in 18s and Nathan in 16s. As those numbers would suggest, it was Evan's (left) match, 6-4,6-2. In the rest of the 16s matches, Raymond Sarmiento (below), Bob van Overbeek, Clay Thompson, Jordan Cox, Dennis Kudla, Jack Sock and Ben Guthrie advanced with only Clay needing to go the distance. Raymond, Clay, Jordan, Jack & Evan are still alive in doubles as well.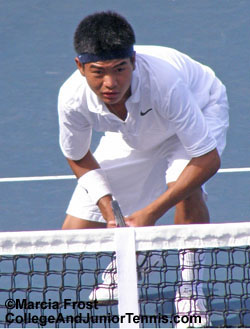 I have been asked many times over the past week whether I prefer the Boys' Nationals at Kalamazoo or the Girls' at Berkeley (formerly San Jose). It is difficult to compare because the events -- much like their locales are totally different. For me, the magic of Kalamazoo is the community, complete with parties and picnics, friends and neighbors. It also has a certain excitement with the photo badges and announcements, not to mention the servers' speeds on the court. But I now head west where the Girls' 18s event has its one special charisma that can also be matched by no other.
Until next year in Kalamazoo and tomorrow in Berkeley,
Marcia Frost
P.S. For continued coverage of the Nationals at Kalamazoo, visit Colette Lewis at Zoo Tennis. Click Here For The Official USTA Nationals Boys 18 Website

Click On A Photo To Enlarge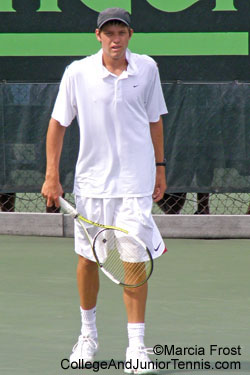 Ty Trombetta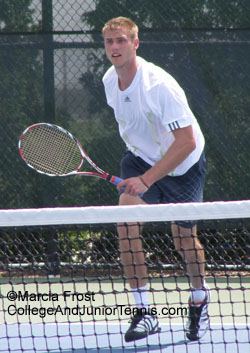 Ryan Thacher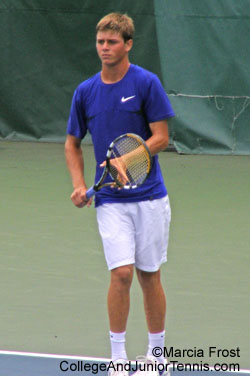 Ryan Harrison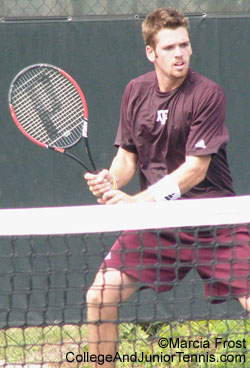 Austin Krajicek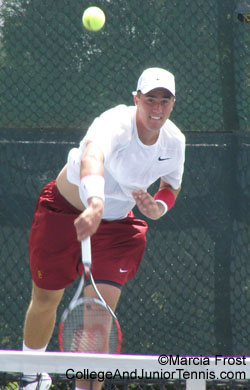 Steve Johnson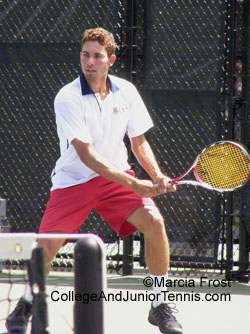 Adam El Mihdawy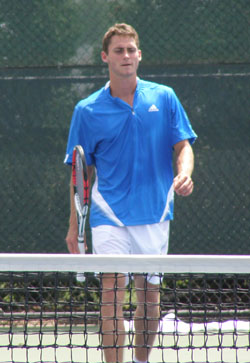 Wil Spencer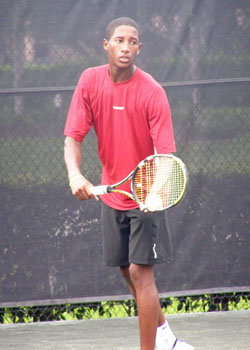 Nathan Pasha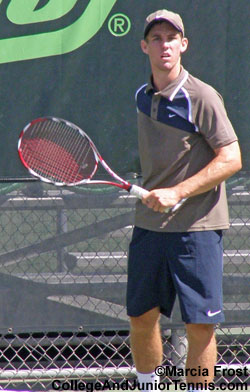 Bradley Klahn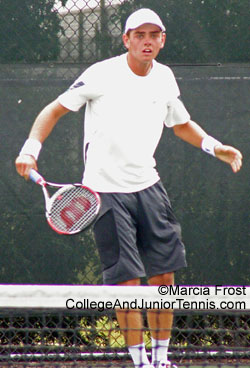 Kyle McMorrow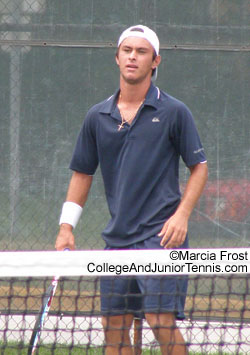 Bob van Overbeek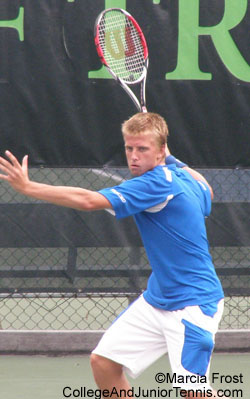 Denis Kudla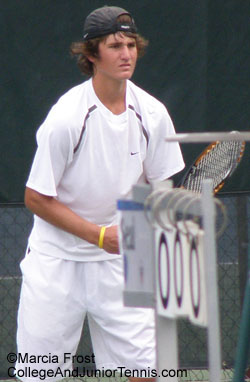 Ben Guthrie
See the Latest
at NIKE
---

Monthly Guides to
College Tennis Planning
Available in Kindle, Print & EBook
for H.S. Seniors
and H.S. Juniors
---

---
See the Latest
at NIKE
---
---
---
---
---
---
---
---
Return to:
College And Junior
Tennis Homepage