Sunday, August 10, 2008-Final Day


Emotions ran high as U.S. Open wildcards were at stake and the best in girls tennis fought for them at the final day of the USTA National Girls' 18 Championships.
I have been on the road for weeks through rain and humidity, heat and cold, but today the weather could not have been more perfect. The temperatures lingered in the high 70s with zero humidity and it was a great day for watching -- and playing -- tennis. There was a large crowd at the Berkeley Tennis Club (adjacent to the Claremont Resort & Spa) and they were ready for a full day of tennis.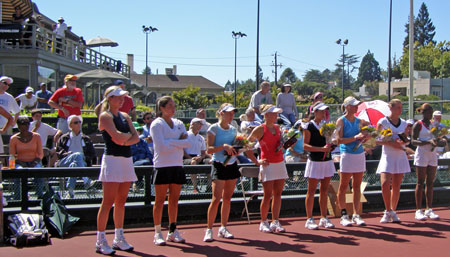 In the singles final it was 17 year old Gail Brodsky, Ukrainian born and Brooklyn raised, against Coco Vanderweghe, a 16 year old professional who lives in Southern California and was actually born in New York. It has been the serve that has haunted Coco all tournament, and the double fault today was again her enemy, though she did manage to hold for most of the first set, before Gail took it at 7-5 after some crowd-pleasing points.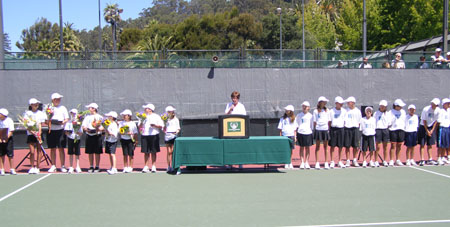 The second set of the final belonged completely to top-seeded Gail Brodsky. Her first break was in the first game and she continued the momentum until her 6-1 win over the third seed, throwing her arms up in excitement.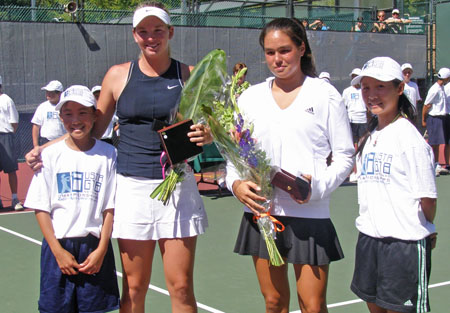 There was not a sweep again this year (Kristen Schlukebir was the last won to do it in 2000) as CoCo Vanderweghe & Jamie Hampton won the doubles over Gail & Mallory Cecil. It was an exciting match with a 7-5 set to CoCo & Jamie, followed by a 6-4 for the top seeds. The third set was at 5-4, at a fifth deuce and a frustrated Gail banged her racquet against the ground at what would be a second match point. But it wasn't going to be played, as the chair called a point penalty -- giving CoCo & Jamie the match. It was a second consecutive win for Jamie, who took this event last year with Melanie Oudin.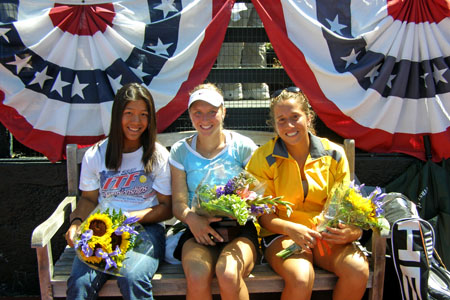 In the end, it was Eastern girls dominated with Kristie Ahn, Gail Brodsky, Irina Falconi (above) and Christina McHale. Irina, who grew up in New York before moving to Florida a few years ago to train, was the third place winner in a three set victory over Julia Boserup that went through some great points before Julia tired out and couldn't get on the board in the third (she's been on the road for seven straight weeks). Kristie Ahn took the consolation draw with a win over Mallory Cecil that was full of long points -- even in the 6-0 final set. And Christina McHale teamed with Julia for a 4th place doubles finish, falling to Mallory Burdette & Sloane Stephens.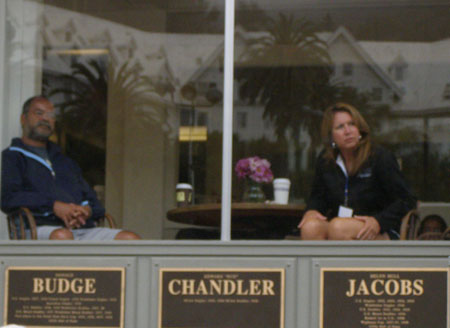 A very fond farewell to my friend Jennifer Pitzen. Jen has put her heart and soul into this tournament for 20 years, not only as the co-tournament director, but as a friend to hundreds of girls, personally providing housing, transportation and a hug when needed. She's also been a member of the USTA Junior Comp committee, working to help juniors nationally. Andrea Norman will continue her own incredible work next year with new co-tournament director Lynne Rolley.

Until next year,
Marcia Frost
Click Here For The Official USTA Nationals Girls 18 Website
Click On A Photo To Enlarge
Gail Brodsky takes title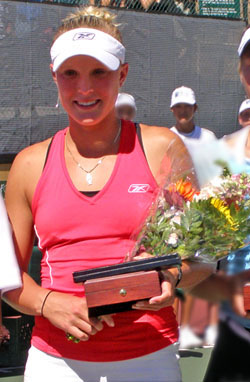 Mallory Cecil
6th Place Singles
2nd Place Doubles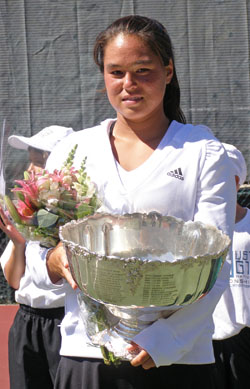 Jamie Hampton won the Maureen Connolly Brinker Award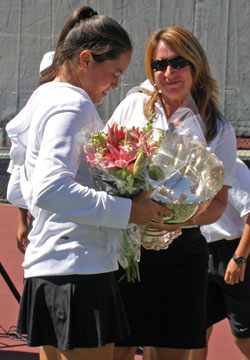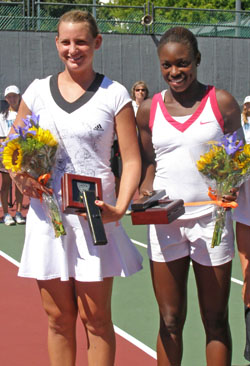 Mallory Burdette
& Sloan Stephens
3rd Place Doubles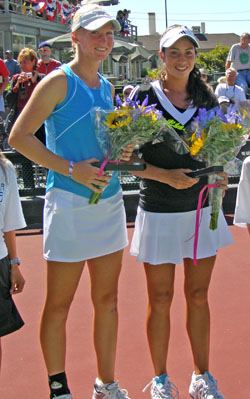 Julia Boserup &
Christina McHale
4th Place Doubles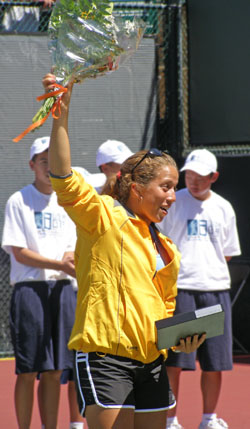 3rd Place Winner
Irina Falconi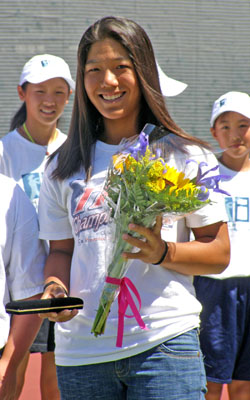 Consolation Winner
Kristie Ahn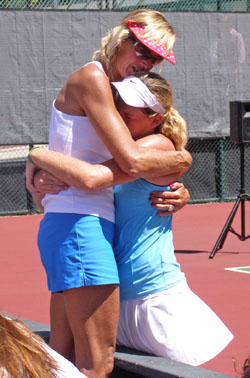 Coco & Mom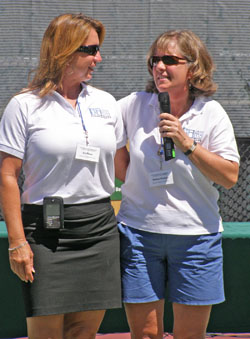 Jen Pitzen & Andrea Norman
Check the new TripAdvisor for great deals on hotels