August 10, 2011
Day Five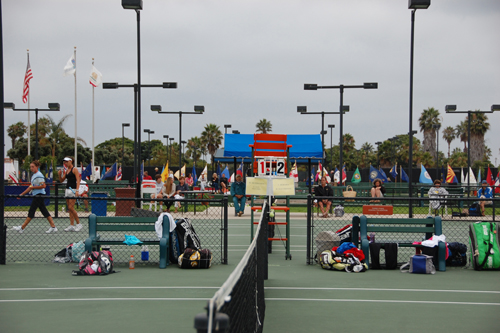 It was a wild Wednesday at the Barnes Tennis Center in San Diego, California, with close matches and upsets on the fifth day at the USTA Girls' 16 & 18 Nationals.
There is no doubt it's been a long summer of tennis and I am amazed so many players still have the physical strength to keep going. Claycourts to Team Championships to Nationals without a break is too much and it appears that the players who are holding tough out there are the ones that didn't try to keep up with the USTA National Schedule.

Alyssa Smith needed a wildcard to get into the Nationals since she had played so few 16s matches over the last year. She knew it was going to be a tough tournament going in as the 15th seed, but today proved to be the toughest yet when she faced top-seeded Kimberly Yee (below). We talked about it after the match. "I was excited to go out there today," she said, "I knew she would bring her best."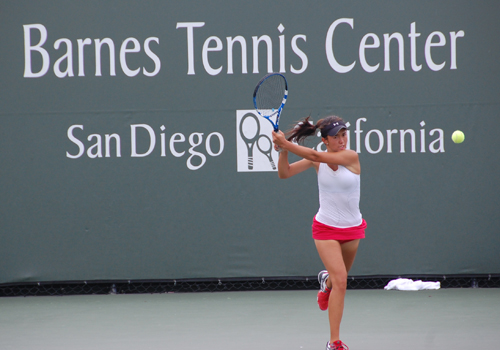 Kimberly was impressive, though appeared to show some fatigue from yesterday's three-setter with Louisa Chirico. It was enough for Alyssa to take advantage of for an upset that was much closer than the 6-4,6-2 score indicates. The Southern Californian will now face unseeded Cassandra Vasquez, who beat Julia Schroeder, 2-6,6-3,6-1, in the quarterfinals.
Fourth-seeded Spencer Liang had quite a challenge from No. 11 Olivia Sneed. The match drew one of the largest crowds of the day as the two played long games for nearly four hours before Spencer took it 4-6,-7-5,6-4. It was much easier for Spencer's opponent in the next round, No. 14 Dasha Ivanova. She beat Amy Zhu (17-32), 6-2,6-2.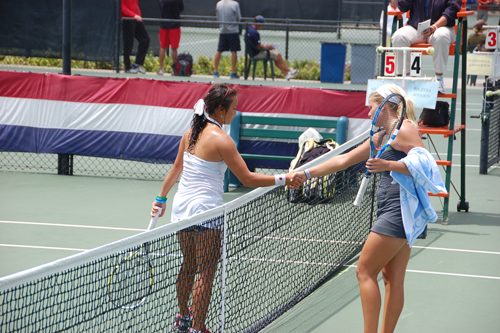 In the bottom half of the draw, there were all straight set matches, with Elizabeth Profit (17-32) , Peggy Porter (3), Emma Alderman and Katrine Steffensen (2) all advancing. Three of the quarterfinalists in Girls' 16s singles are also into the semifinal round in the doubles. Third-seeded Dasha Ivanova and partner Mia King will face off against Yuki Chiang and Alexis Periera, while Alyssa Smith and Lauren Marker (4) will face second-seeded Mariana Gould and Spencer Liang in the semis on Thursday.
The Girls' 18 Nationals was full of long, tough matches that two of the seeds did not make it through. Hayley Carter continued her great run with a win over No. 13 Brooke Austin. It was the first three-setter the South Carolina teen had faced in the tournament. Hannah King didn't need to go the distance to take out fellow Georgian No. 15 Whitney Kay, but it was a close 6-4,6-4.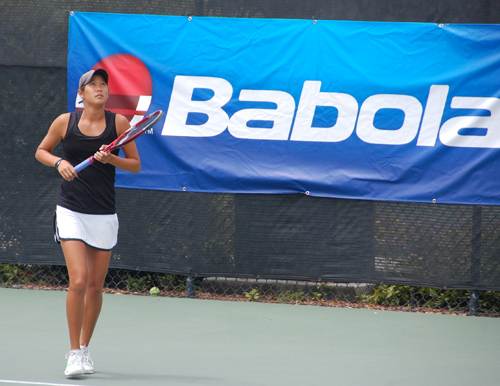 Top-seeded Lauren Davis picked up the first set against Lynn Chi (above) without a problem, then almost lost the second before finally taking it in a tiebreaker. Incoming UCLA freshman Robin Anderson and San Diego's Christina Makarova played for an hour and a half before Robin took the first set 6-4, but her win in the second wasn't quite so close. Victoria Duval (16) was pushed by unseeded Kendal Woodard, getting through it at 5-7,6-4,6-0. It also took three sets for Sachia Vickery (5), Ellen Tsay and Kyle McPhillips to advance to the round of 16.
Just as in the 16s, the Girls' 18s has players in contention to win both singles and doubles. Madison Keys and partner Samantha Crawford, seeded two, squeezed by Victoria Duval and Stephanie Nauta (9-16), 6-2,2-6,1-0(11/9) to earn their place in the quarterfinals. Joining them in that round is eighth-seeded Kyle McPhillips and Chanelle Van Nguyen, who won a three hour match against Julia Elbaba and Kelsey Laurente. The final players who remain in both singles and doubles are not only playing as a team, but were named Wednesday's Babalot Players of the Day. Robin Anderson and Ellen Tsay were recognized for their outstanding play and sportsmanship in both singles and doubles.

As much as I've been enjoying the Siggi's Yogurt and Luna Bars at the tournament, it looks like we will all be able to get back to the Hilton San Diego Mission Valley on Thursday in time to sit down at a table for dinner!
Until Tomorrow,
Marcia Frost

P.S. I'm putting up photos of players everyday on our Facebook page. Be sure to check out the album labeled Players and tag yourself!
If you are interested in purchasing photographs for personal use from the USTA Girls' 16 & 18 Nationals, contact Marcia@MarciaFrost.com.

click on photo to enlarge
Create an Amazon Wedding Registry

Monthly Guides to
College Tennis Planning
Available in Kindle, Print & EBook
for H.S. Seniors
and H.S. Juniors
Create an Amazon Wedding Registry
Return to:
College And Junior
Tennis Homepage