Sunday, August 5, 2007-Day One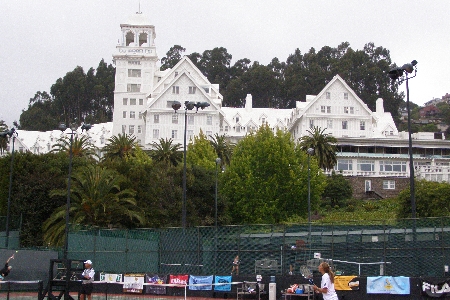 After nearly two decades in San Jose, the Girls' 18 Nationals has found a new home -- and quite a grand home it is. The history of the Berkeley Tennis Club and Claremont Resort & Spa runs as deep as the hills between the courts and the hotel, but it's already feeling like home to the event.
It wasn't easy to find a new site (and a new set of local volunteers), however, Tournament Directors Andrea Norman & Jen Pitzen have managed to pull it off with few problems. Everything ran smoothly for the Coaches Forum, Registration and first day of play. The only thing that was apparently not figured into the scenario was the morning fog and cooler temperatures.
I felt like I was back at Wimbledon as the foggy drizzle did not give way to warm summer temperatures. Players and coaches scrambled for sweatshirts and long pants as the sun stayed behind the clouds all day. Fortunately the rain was not heavy enough to cause any major scheduling problems, it was just annoying as the morning matches ran just slightly late.
There were no seeds playing today so there were no "upsets" to be found. I wandered around a bit to get myself accustomed to the new location and stumbled on a few good matches, the first of which would turn out to having staying power.
Alexis Rodrigues (pictured right) and Emily Gelber started first up with long baseline rallies and trading of breaks. Even though it was good match to watch it's hard for me to stay still on day one so I felt the need to venture off. Every time I returned past Court 5 it seemed like Deja Vu as the match seemed to always be there. In fact, it was not my imagination. Play continued over three hours before Emily took it 4-6,6-1,7-5.
It was a quicker, though interesting match, for Sarah Landsman and Jennifer Yen as Sarah moved on 6-2,7-5. I watched quite a bit of fellow Easterners (there was a mixup in Nadja's hometown listing) Nadja Gilchrest and Shoko Okuna as the latter put up a nice fight before falling to the wildcard, 6-3,6-3. It looked like Caroline Davis was ready for a comeback before a controversy over a linecall would send she and Michelle Weerasinghe into a delay and loss of concentration. (Michelle came back in the third and took it).
I finally got to see Roxanne Ellison. It had been awhile since I'd seen either of the Ellison Sisters play and though Haley Hemm proved to be a stronger singles opponent Sunday, it was easy to see how the ever-volleying Roxanne was such a good doubles player.
The seeds will take the court on Monday and I'm sure the tempo will change at the Berkeley Tennis Club. Unfortunately, the weather still looks to be a bit cool and foggy so we'll just have to look for the heat on court.
Until tomorrow,
Marcia Frost
Click Here For The Official USTA Nationals Girls 18 Website
Click On A Photo To Enlarge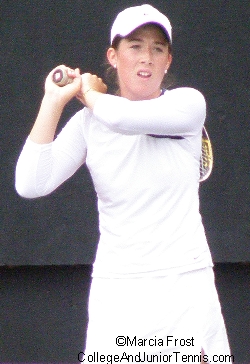 Caroline Davis
Emily Gelber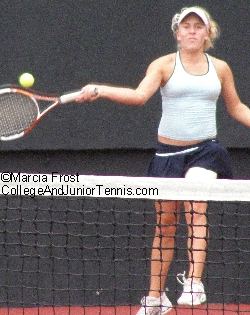 Haley Hemm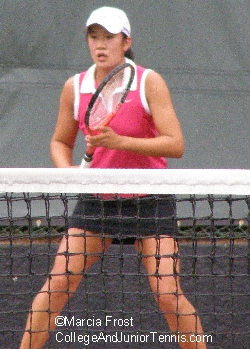 Jennifer Yen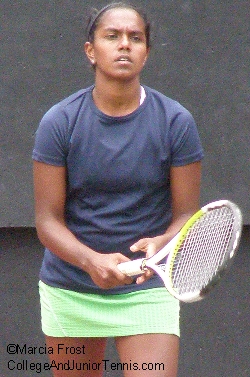 Michelle Weersinghe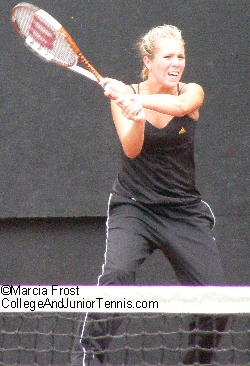 Roxanne Ellison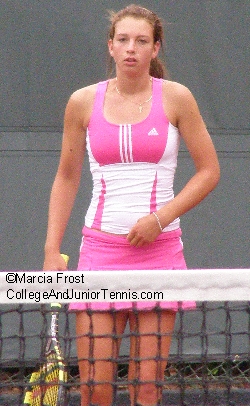 Sarah Landsman
Check the new TripAdvisor for great deals on hotels
Monthly Guides to
College Tennis Planning
Available in Kindle & Print

Sibling Pairs featured in
American Doubles...







Monthly Guides to
College Tennis Planning
Available in Kindle, Print & EBook
for H.S. Seniors
and H.S. Juniors
Return to:
College And Junior
Tennis Homepage