Wednesday, July 7, 2004-Final Day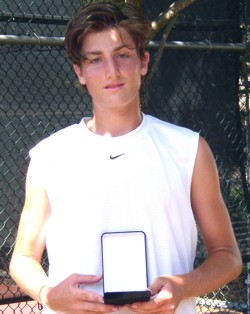 I should have learned by now that tennis matches hardly ever progress as you expect them to. There was no better lesson in that than today. As one final shocked the crowd as it passed through, the other kept the suspense for hours.

Cory Parr (pictured right) continued his pattern of winning quick and easy, but this time it was against the number two seed. Alex Vasin had looked strong all tournament and, even though Cory had only one tough match in the first round, no one expected the top seed to run through this final at 6-1,6-0. Even the first game (which went to deuce four times) had the crowd expecting a long battle between the two Easterners. There was no battle, though, today Alex just couldn't put it together.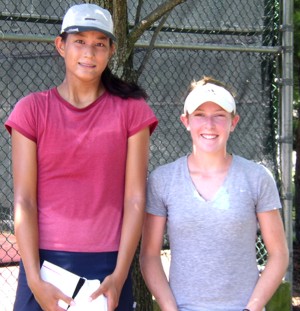 The girls final was a completely different matter. It began as long baseline rallies that continually ended with Madison Brengle (pictured, far left) capturing the point. In fact, this continued all the way through 5-0 in the first set. The tides changed when Katarina Reveche (pictured left) began to approach the net for some winning volleys. Though the score climbed to 5-1 and 5-2, it was too late for Katarina to capture the set. The second set featured more exiting play as both girls did what they could to advance on the scoreboard. It was to be Katarina's set in the end, 6-3.
The final set of the girls final was up for grabs. The games went on and off serve, ending after three match points with Madison taking home the winners trophy, 6-2,3-6,6-4.
There were some interesting consolation matches today which led up to the just as close finals. On the boys side (pictured right to left), Christopher Lee defeated Christopher Racz, 7-5,7-5. Unseeded Gail Brodsky took the girls consolation final from Michaeala Kissell, who had just survived a tough semifinal against Samantha Galinena, 6-2,7-5.
Though I only made it to the beach for one short walk, I still enjoyed my time at the Jersey Shore for the Boys & Girls 16 National Open.
Until Next Year,
Marcia Frost
Click Here To Purchase Photos From This Event
Note: While I do not sell photographs, if you see a photo(s) of yourself from any day that you would like, drop me an e-mail (Marcia@MarciaFrost.com) and I will upload the photo(s) for you to order low-cost prints from Kodak.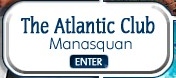 The Mental Athlete
Return to:
College And Junior
Tennis Homepage