Monday, November 29, 2005-Final Day

Singles Winner Andrew Korinek, Referee John Cuttino and Singles Finalist Noah Bragg
The Boys 12 National Open at the USTA National Tennis Center concluded today with few surprises in the draw. Though they were a little out of order, the top four players finished in the top four positions.
Top-seeded Bert Vancura (pictured right), who lives just miles from the National Tennis Center, lost his bid for the gold in the semis, but he proved hard to beat in the third place playoff. The match between Bert and fourth-seeded Karthik Dhore looked pretty equal through most points, but every once in awhile Bert would hit a winner that would remind you that he was the No. 8 player in the country in this age division. He took the bronze, 6-2,6-2.
The final between Noah Bragg and Andrew Korinek was a back and forth with no clear winner until the end. The only thing that was crystal clear was how these players, the third and second seeds, respectively, ended up in the final. Each appeared to be a foot taller than their previous round opponents and that can prove to be more than enough to scramble the seeds. Andrew, who had won this title in Texas last year, came through once again, 4-6,6-1,1-0(6).
Doubles Winners Mihir Kumar & Billy Weldon and Finalists Alex Steinroeder & William Spector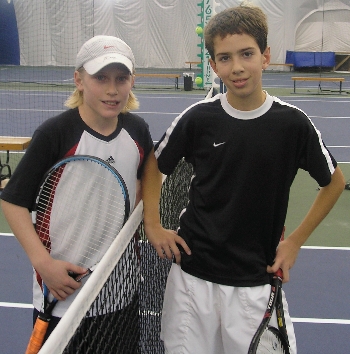 One court over from a rather quick doubles match was a singles consolation battle that was truly full of heart and soul. Zach Morris and Jonathan Carcione (pictured left to right) had previously played a number of long matches according to Zach's dad, but I can't imagine any was like today. It can sometimes be hard to get excited watching matches in the 12s with a lot of long baseline ralleys and lobbing. This match was nothing like it. The first set may have said 6-0 in favor of Jonathan on the scoreboard, but it was nothing like a shut out. There were very long points with an assortment of shots and games that went deuces as the norm. Even when the score read 6-0,4-0, Zach was still in it and did in fact win the next four games. When Jonathan took match at 6-4 in the second, two hours had past and I had seen some truly remarkable tennis for players of any age.

The National Tennis Center is undergoing a massive renovation to the indoor building, but the relocation to a trailor and bubbled courts has been rather smooth. Despite a few hiccups (spectators walking through courts in the middle of points to get to the benches), the tournament went off without a hitch. There is no doubt that the level of tennis has been raised dramatically in the 12s age group. I can't imagine what to expect when these players reach 18!
Until next year,
Marcia Frost
Monthly Guides to
College Tennis Planning
Available in Kindle & Print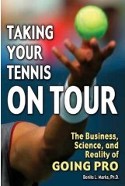 See a review of this book
Return to:
College And Junior Tennis