Monday, November 27, 2006-Final Day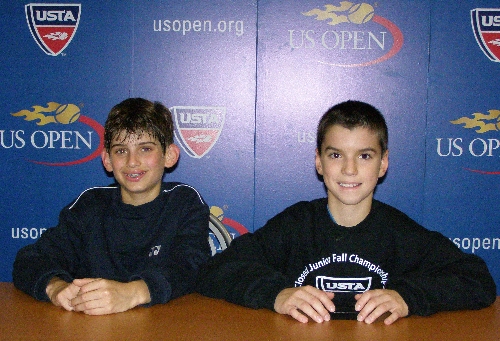 I felt like I was back in the Midwest as three out of the four National Open finishers at the USTA Billy Jean King National Tennis Center came from that section. Coming in on top was the 11th seed Konrad Zieba.
With the finals and third place playoff matches right next to each other, I was able to catch the action on both. Konrad Zieba and Jared Hiltzik, who both train in Illinois with Coach Jacek Dabrowski, played a baseline battle the first set with Konrad the clear 6-2 winner. In the second, he had to work for his win as Jared played some nice net points. There were some rallies back and fourth but, despite his No. 1 seeding, Jared was just slightly outplayed and Konrad Zieba had his third National title in a row.
After the match it was all smiles for both as Bill Mountford, NTC's Director of Tennis, led the two and their coach on a tour through Arthur Ashe Stadium. The tour, which included my first trip to the men's locker room (!) also went through the Interview Room and had a photo op in the stadium itself.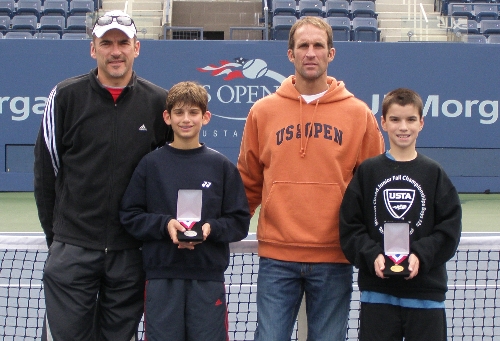 Coach Jacek Dabrowski, Jared Hiltzik, Tournament Director Greg Bolitsy & Konrad Zieba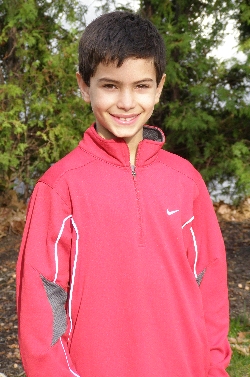 In the third place playoff, Tyler Gardiner* picked up another accolade to go with his doubles trophy (with partner Jeffrey Schorsch). The match, which was much closer than the 6-1,6-1 score showed, gave the Michigan native a chance to show off the net play that brought him the doubles win. Noah Rubin (pictured left) the sole hometown player remaining among the finishers, had a number of winners of his own, though not enough for the ten year old to get past the No. 2 seed.
There is no doubt that the level of play among juniors is going up as I've witnessed watching the 12s each year. I look forward to trying to catch more of this group at next year's National Open.
*Tyler had a plane to catch and left before I was able to get his picture.
Until next year,
Marcia Frost