Winner Gary Kushnirovich & Finalist Dushy Srinivasan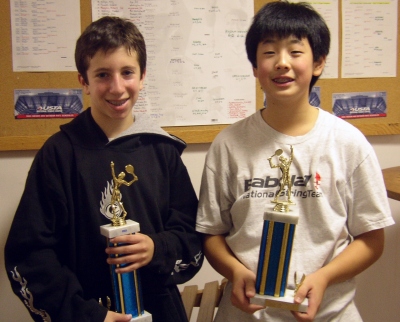 3rd Place Winner Zachary Weiss & 4th Place Finisher Felix Sun
The Boys 12 National Open Championships at the USTA National Tennis Center was testimony to the high level of play that junior tennis has reached. Even at this young age, the hard-hitting players demonstrated not only terrific strokes, but excellent sportsmanship.
Top-seeded Gary Kushnirovich, who just keeps getting better all the time, was nearly flawless in his 6-2,6-2 win over Dushy Srinivansen. Though there were long ralleys and points, Dushy just couldn't get past Gary's constant cross-court winners.
In the third place playoff, third-seeded Zachary Weiss earned his place against Felix Sun. The points were long, the play was beautiful, but Zachary was just a little better at his placement for the necessary points. The two remained close throughout with Zachary edging, 6-4,7-6(5).
These boys are starting off on the right track so that someday they may be playing on the outside grounds of the USTA National Tennis Center. I wouldn't be surprised to see any of these four there.

Marcia Frost
Return To 2003 National Open Index