Monday, December 29th-Day Three
Another incredible day of tennis was played today at the National Tennis Center with many surprises. Though there were injuries and upsets, there were also some of the best displays of sportsmanship I have ever seen.
The 6-4,6-1 score did not tell it all in the quarterfinal match between the University of Miami's Josh Cohen and former Virginia Tech player Ryan Davidson. Despite his loss, Ryan seemed to be at the ball for one amazing shot after another keeping every game close. In the end it was Josh who closed out the games. He whipped those forehands with ease and has definitely matured on the court since his junior days*.
The biggest surprise in the men's singles semis is Princeton freshman Sratha Saengsuwam. With Coach Glenn Michibata cheering him on, the unseeded Thailand native earned his place by defeating No. 15 Eric Saccullo of Colgate in an exhilirating, 6-1,1-6,7-5 battle. A special mention has to go to Eric, who today played not one, but three three-setters (the third a doubles match with partner Reed Hagmann) keeping up the fighting spirit. I would certainly not call him a loser at the end of a day like that.
Men's semis will be rounded out with former college player and No. 4 seed Eric Scharf, a 7-5,7-5 winner over Michael-Ray Pallares, against Notre Dame's Eric Langenkamp. Eric was the other player today who had to go through three three-setters. It began with a 6-4,4-6,6-1 win over Reed Hagmann followed by a closer 6-7(5),6-4,6-3 past former Princeton player Kyle Kliegerman, the top seed. The latter match was the most exciting serve and volley display I have seen in a long time. His final performance of the day teamed him with Indiana's Ian Arons in doubles where they lost to Brett Ross and Andrew Simpson.
As much as the men dominated this day of tennis, singles play ended with a real heart-stopper. Though their earlier matches went through with ease, Kentucky's Aibika Kalsarieva and former Wake Forest player Maren Haus had the real battle. Their semifinal match lasted over three hours. At one point both players were visibly limping through the court and it didn't look like either could go on. It was the top-seeded Maren who did as Aibika was forced through tears to retire in cramping pain and ended it 3-6,7-6(3),4-5.
Seventeen year old Polina Zaretser will join Maren in the women's final. Polina, who wasn't feeling very well herself, eliminated number four seed (and hitting partner) Marilyn Baker before facing Nicole Hubnerova. Nicole was unable to complete the match because of a stomach illness, giving Polina a 6-3,1-0 win. The women's doubles draws were completed with Shareen Lai and Ana Radeljevic the winners over Cynthia Coriat and Ilona Vichnevskaya, 6-3,6-1.
Until Tomorrow,
Marcia Frost
*Click here to read more about Josh as a junior and his younger sister Julia, who just ended the year as No. 11 in the ITF Junior World rankings.
Return To 2003 National Open Index
Aibika Kalsarieva
Eric Saccullo
Brett Ross &
Reed Hagmann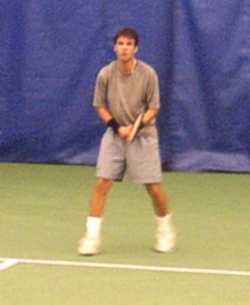 Josh Cohen