Wednesday, December 29th-Day Threee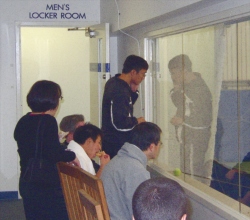 It's Deja vu at the National Tennis Center as the men set up for a duplicate of last year's final and the women will repeat the 2002 finish.
Josh Cohen and Erik Scharf will once again play for the National Open Men's Singles title. Last year the gold ball belonged to Josh with a 6-4,7-5 win, but Erik will be looking to change that result tomorrow. Meanwhile, the will re-do the 2002 final in which Stacia Fonseca took it over Dominique Liguori. This year, however, Dominique is a more experienced high school senior getting ready to play college tennis and it is unlikely to be another 6-2,6-0 win for Stacia.
I caught all of the quarterfinal matches today and there was a lot of great tennis to see. In the men's draw, there couldn't possibly have been four more different matches. Josh Cohen and Ryan Davidson ran down balls and whipped forehands so fast the points often went by faster than the spectators could watch. Before we knew it this match was over with Josh moving on to his semi, 6-3,6-2. James Wan and Eric Langekamp, on the other hand, played long points in a match that no one could even begin to guess who would win. In the end it was James who prevailed, 7-5,6-2.
The other two matches were both three-setters, with Sratha Saengsuwain and Erik Scharf going at it the longest. Through super serving and medical timeouts (for each player) the advantage went back and forth throught the first two sets. The third was shorter and easier as Sratha was having shoulder problems and Erik took it, 7-5,3-6,6-3. The match between Alex Stone and Scott Denenberg was the friendliest. Though there was some rivalry, the two had not played it each other before so there wasn't time for it to develop to strongly. The match was even closer than the 6-4,3-6,7-5 score Alex finished with.
In the semis, it was a college tennis showdown as the University of Miami's Josh Cohen eliminated Stanford's James Wan, 7-5,6-4, while former St. John's player Erik Scharf took out Duke's injured Alex Stone, 6-3,1-0 retired.
The women's singles draw also produced some interesting matches. Though she kept up good spirits and good tennis, Stephanie Cohen couldn't do anything to get past Stacia Fonseca today. Stacia was right on and she quickly defeated the Georgetown freshman, 6-1,6-0. Julia Koulbitskaya, on the other hand, had quite a struggle on her hand as she tried to get past Jessica Schlotterback. The sixth seed kept up the pressure, but not long enough to keep Julia from a 6-3,7-5 win. The remaining quarterfinal was between two professionals -- Tarrin Dougery and Agnes Wiski, a pro at the national tennis center. It was Agnes match from beginning to 6-1,6-4 end.
It was a battle in the semis between former University of Tennessee player Agnes Wiski and junior Dominque Liguori. It was only by a slight edge that Dominique secured her place in the final, 5-7,6-3,7-6(5). It was a little easier for Stacia as she dominated the University of Pennsylvania's Julia Koulbitskaya, 6-4,6-3.
Only time will tell if there will be repeat winners at the National Open Men's & Women's Championships, but it's already clear that the talent just gets better ever year.
Pictured above: Princeton Coach Glenn Michibata (a former college tennis star himself) keeps a good eye on his player, Sratha Saengsuwarn
Until Tomorrow,
Marcia Frost
Return To 2004 National Open Index
Help raise funds for
breast & ovarian cancer by
purchasing Tami Agassi's
book of Celebrity Recipes

Return to:
College And Junior
Tennis Homepage