Wednesday, April 12, 2006-Day Four (my final day)


The USTA National Spring Championships are heading into the quarterfinals and only the toughest can survive the competition -- and strong winds.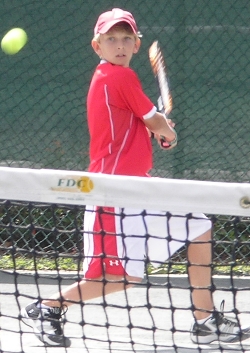 I've spent more time at the boys site so my goal today was to do a more thorough job with the girls, but I needed a few more pictures and couldn't help watching a little before I headed over there. There was no doubt that the level of competition has been raised in the later rounds and, as I discussed with Rodney Harmon -- the Director of Men's Tennis for USTA High Performance and a former college and junior tennis star himself -- this group of boys is quite impressive. The volleying, strength of serves and one-handed backhands are exhibited like no other group of 12 and under I have ever seen. And most of these boys aren't even close to their 12th birthdays! I'm anxious to see what they do in the future, but for today...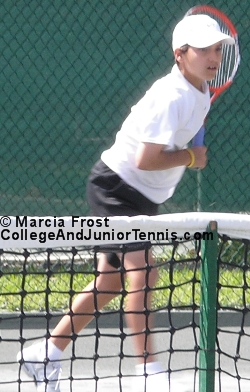 There no were major surprises among the boys with the exception of Jeremy Efferding's 6-1,6-0 elimination of No. 9 Kenneth Sabacinski. 6-1,6-0. I didn't get to see any of that so I can't comment on what went wrong for the seed, however, I did catch enough of seventh-seeded Mitchell Krueger (pictured above) over Brett Clark to be surprised at the 6-1,6-1 score -- I thought it looked much closer. Also advancing in the boys draw today was Bjorn Fratangelo (2), No. 4 Kyle Berman (pictured left) , Dennis Novikov(6), Joseph Di Giulio (8), Andrew Korinek (3) and top-seed Mika De Coster.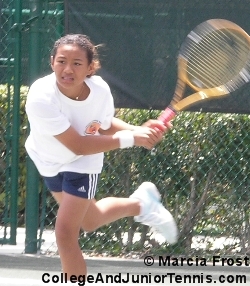 Over at the Delray Beach Tennis Center the big match of the day was between the two remaining unseeded players. Julia Jones and Natasha Smith played to the crowd for the final spot in the quarterfinals. The points were long and the games were close as the baseline ralleys seemed to continue forever. In the end it was Julia who prevailed, 6-3,6-7,6-3.
Controversy was the name of the game between No. 10 Caitlyn Williams and No. 8 Jarret Fisher. While a ref watched over them, it was Caitlyn who had the edge, 6-4,6-3. The match between No. 5 Danielle Collins and No. 16 Ellie Yates looked much closer than the 6-1,6-3 Danielle took. While No. 7 Chanelle Van Nguyen (pictured above) clearly had the lead in her 6-1,6-0 victory over Desirae Krawczyk.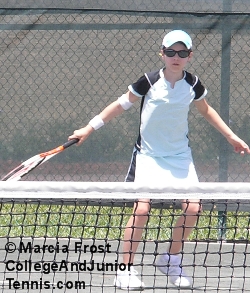 The top seeds faced a bit of a challenge today. For No. 1 Kyle McPhillips (pictured left) it took a few trainer breaks to get it together and beat Victoria Duval, 6-2.6-4. Second-seeded Blair Shankle had her first test as Amanda Lin pulled her into a tiebreaker in the first. I saw the end of that set and watched Blair return with deterimination for a quick 6-0 second. Whitney Kay, the third seed, had few problems with the wind (and Reeree Li) as she won it, 6-2,6-0. In the remaining match, No. 6 Molly O'Koniewski defeated No. 11 Nicole Flower, 6-3,7-6.
I had to leave the USTA National Spring Championships a little early to be back at the tournament desk for the Port Washington Spring Classic (a record 435 players await!), but I look forward to returning next year. Final results for the tournament will be posted here and also click for additional photos.
Until Later,
Marcia Frost
Click Here For The Full Draws: Boys Girls
click on a photo to enlarge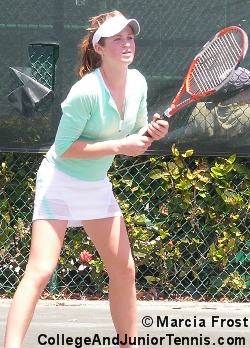 Natasha Smith
Caitlyn Williams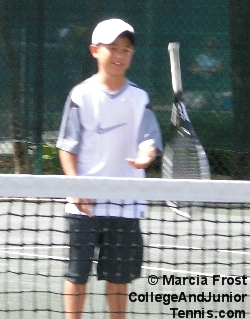 Kenneth Sabacinski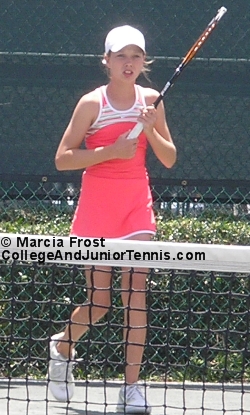 Danielle Collins
Ellie Yates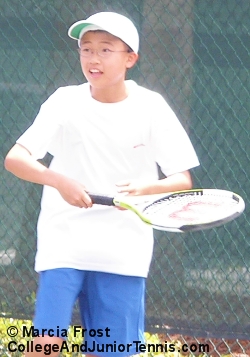 Jonathan Huang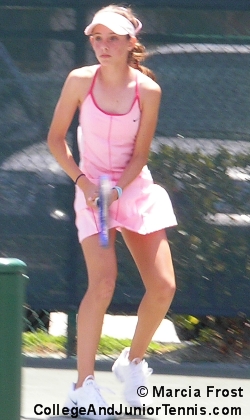 Julia Jones
Desirae Krawczyk
Amanda Lin
Brett Clark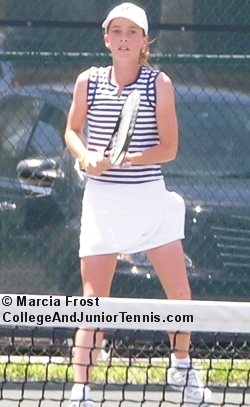 Whitney Kay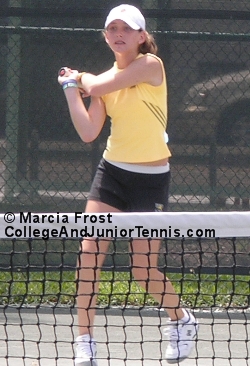 Nicole Flower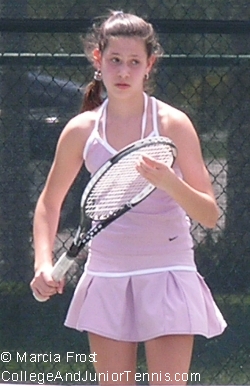 Molly O'Konewski
< Create an Amazon Wedding Registry
Create an Amazon Wedding Registry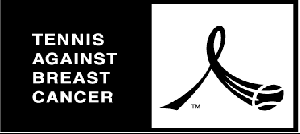 Create an Amazon Wedding Registry
Return to:
College And Junior
Tennis Homepage