Tuesday, March 14, 2006-Day Three

The humidity may have been down, but the pressure wasn't as the round of 16 got underway at the Mobile Tennis Center. With 50 courts (on two sides of the street) there were matches everywhere and it wasn't easy to keep track. I took a hundred pictures and watched (at least it felt like) as many matches, yet I still managed to miss the biggest upset of the day.
With so much going on there was just no telling where the big news was going to be and in tennis it's always where you least expect it. Today it was in the girls singles draw as the top-seeded Kristen McVitty fell to Claire Bartlett, 6-7(2),6-4,7-6(3). The tennis center was buzzing with news of the match, but it was far from the only surprise of the day. There were a number of upsets among the girls today (though second-seeded Reka Zsinszka was certainly not one of them as she breezed through another match).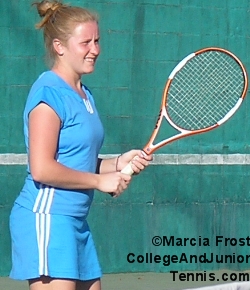 I did see ninth-seeded Shinann Featherston (left), who has had a remarkable run in her first months in the 18s, fall to Olivia Janowicz, 6-7(4),6-2,7-5. The points were long and exciting as two of the younger players out there battled it out. Shinann held in there through the first match points and it looked like it would go to another tiebreaker just before Olivia took it. Shinann did advance in doubles, with partner Lindsay Clark, over Kimberly Haynes & Katarina Reveche. Also causing upsets in the girls singles draw today were Mallory Cecil over No. 5 Ashley Weinhold and Julia Huschke over another nine seed, Lauren Sabasinski. Both were three-setters.

There was a consolation match that I was drawn to as it looked to me like it could have been a late round in any national. The match was between Kristy Frilling and Chelsea Preeg and what I saw lived up to my expectation. Both players had been seeded in the 5-8 group and deserved that designation. Though the score went back and forth, the match was much closer than Kristy's 6-3,1-6,6-0 finish.

The boys draw didn't have any major suprises today, but it certainly didn't lack excitement. The lone upset was Aaron Carpenter's three-set victory over No. 3 Jason Morgenstern, but I saw some of second-seeded Davey Sandgren's match with Jonathan Wolff and it was definitely as hard-fought as the 6-4,5-7,6-4 represents.

Another player who has been working hard is Alex Vasin. Yesterday it was two three setters -- one in singles and one in doubles -- and today it was two more. I saw much of the first as Alex got by Stephen Stege, 5-7,6-2,6-4. It was a grueling match and I'm sure it took its toll, as the soon to be University of Pennsylvania State freshman then fell to the tournament's top seed -- Reid Carlton before dropping a late afternoon doubles match.

Tomorrow will bring lots challenges as we get into the quarterfinals. The girls draw, which is in general stronger than the boys, is filled with many more incredible matches to come in the main draw and consolation. I'm not ruling out the boys, though, for providing some more excitement.

Until Tomorrow,
Marcia Frost


P.S. For more reporting from the National Spring Championships, check out Colette Lewis at Zoo Tennis.
click on a photo to enlarge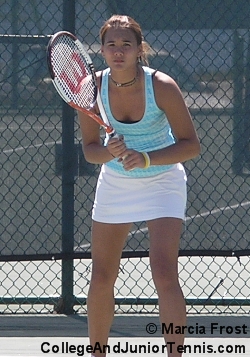 Kristy Frilling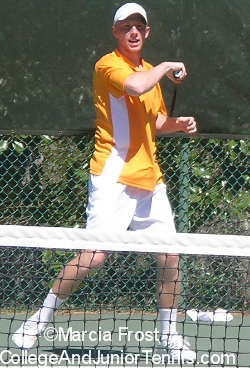 Davey Sandgren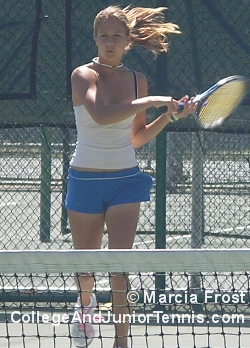 Olivia Janowicz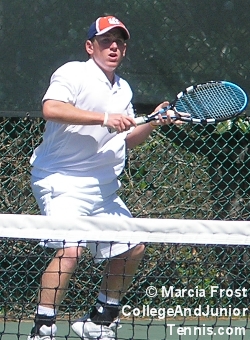 Jonathan Wolff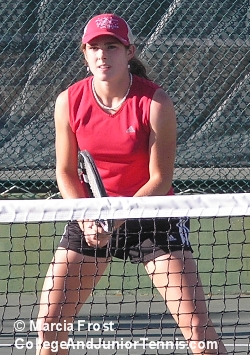 Kimberly Haynes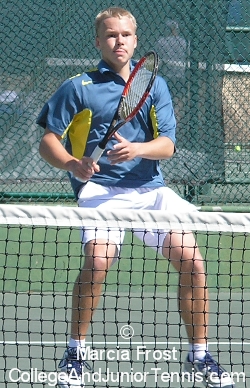 Alex Vasin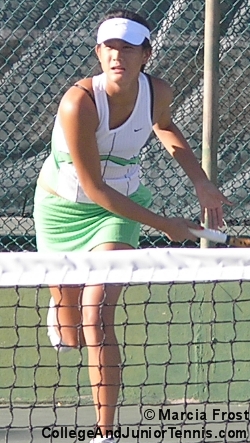 Katarina Reviche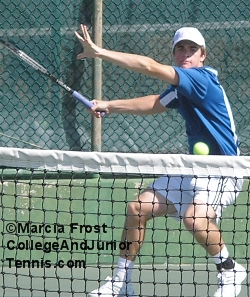 Stephen Stege
Chelsea Preeg
Create an Amazon Wedding Registry
Return to:
College And Junior
Tennis Homepage