Wednesday, March 14, 2007-Day Four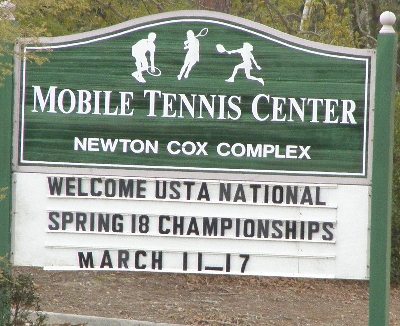 The weather changed and so did the remaining top players as the boys lost their top three seeds in a day full of three-setters.
It was a sometimes cool and always breezy day at the Mobile Tennis Center as the boys singles draw played out to the unexpected in some long matches. Starting at the top, Reid Carleton fell to the alpha seeded Will Spencer in a 2-6,7-5,6-3 contest which I really didn't get to see much of. I did catch a bit of the never-ending battle between Will Guzick (8) and Luke Marchese (10), ending in 4-6,6-3,6-4 to the higher seed in a match that I thought could have easily gone either way.
No. 4 Nicolas Meister and 17-32 Kayvon Karimi had some good points through to the 2-6,6-4,6-2 win for Nicolas, but I was surprised to see very little net play from these two. Unfortunately, I have to admit not catching the next four -- Brennan Boyajian (6) over Ryan Kim (15) 6-4,7-5; Eric Quigley (17-32) defeating Marc Powers, 6-1,1-6,7-5 (a rather strange score?); Steve Johnson (9) upsetting Ryan Lipman (3), 6-3,6-4; and Alex Domijan (17-32) beating Christopher Madden (13) -- but I made it a point to catch the big one of the day -- Dennis Nevolo (12) and Jordan Rux (2).
I had marked down the match between Dennis Nevolo and Jordan Rux as one of my top picks of the day as being a great match, so I can't comfortably call the lower seed's win as an upset. It was certainly an unusual match, though. Dennis started it in complete control with a 3-1 win to start. After a very tight game the points got better and longer and led back on serve and into a tiebreaker. It was Jordan who actually picked up, however, it was all Dennis in the second -- at least I thought it was. I walked away when he was leading 5-1 to check out some other matches, only to come back and find out that, after serving at set point, it was actually 6-4 before Dennis took it. Just as the third set was beginning the rain came in. Jordan could not come back this time from down 4-0 and lost the set and the match at 6-1.
The girls draw seemed relatively uneventful compared to the boys. Top-seeded Melanie Oudin still hasn't been stretched, though Nadja Gilchrest put up a bit of a fight through a very close first set until 4-3 (she eventually fell 6-3,6-0). It was also another quick win for No. 15 Stacey Lee as she took out 17-32 Elizabeth Epstein, 6-2,6-2. Asia Muhammed (3) put in some work in her match against Megan Broderick (17-32), gathering a bit of an audience before her 6-4,6-3 win and Stephanie Nunic (14) stretched it to three (6-1,4-6,6-2) before falling to Keri Wong (7). Unseeded Christina McHale had a chance to serve for the second (she lost the first 6-3), but No. 4 Lauren Embree proved her seeding and pulled it out. The one minor upset was ninth-seeded Alison Riske's 6-4,7-5 over second-seeded Claire Bartlett in a baseline battle.
Although I tried not to focus on the Eastern players I spent so much time on yesterday, I couldn't help but going back to Shinann Featherston (13) and Chelsea Preeg. It was a spectacular match, worthy of attention as the balls were flying to every crevice of the court with both players getting to the impossible. In the first set, Shinann came back from down 6-2 in the tiebreaker to take the breaker 8/6, but Chelsea proved a little better at the (very) long points to capture the others, 6-3 and 6-2. It was a match that proved there is definitely some exciting tennis out there from both sexes.
Though the rain only interfered with about two hours of play today, it looks to be more of a nuisance tomorrow, but whenever the quarterfinals are played I'm sure we will see plenty of excitement here in Mobile.
Until Tomorrow,
Marcia Frost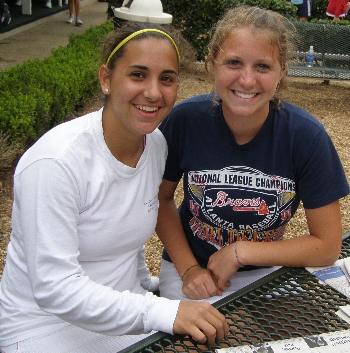 Marisa Lambropoulos & Lauren Meier

P.S. For more reporting from the National Spring Championships, check out Colette Lewis' stories & photos at Zoo Tennis.
click on a photo to enlarge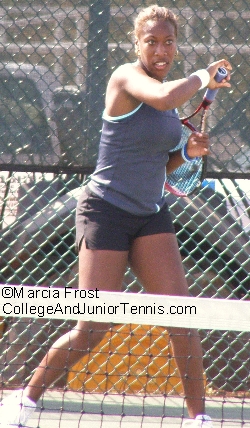 Nadja Gilchrest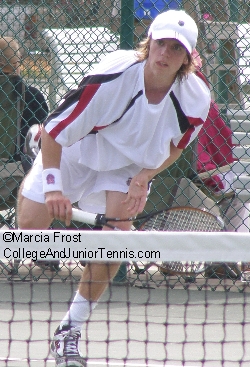 Reid Carleton
Elizabeth Epstein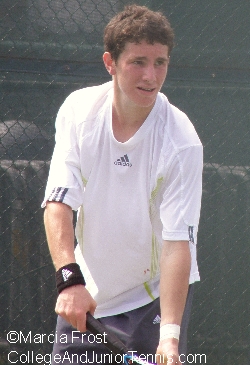 Luke Marchese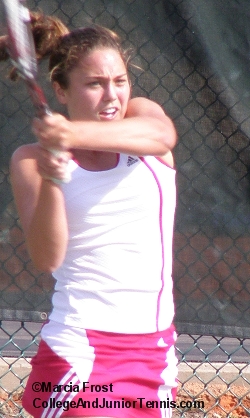 Megan Broderick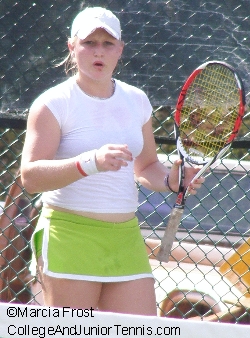 Stefanie Nunic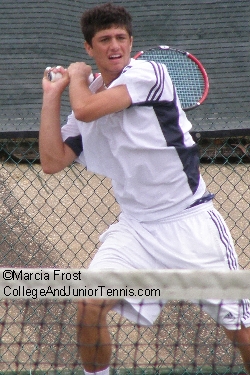 Kayvon Karimi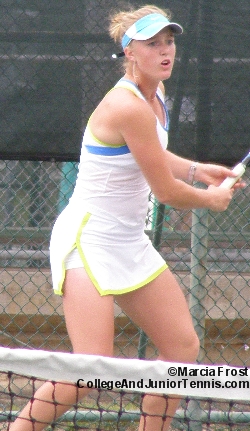 Claire Bartlett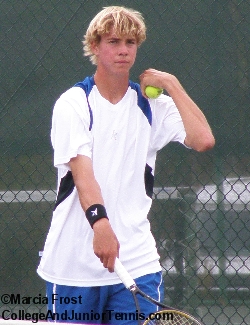 Jordan Rux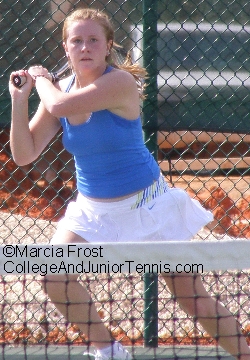 Shinann Featherston

Monthly Guides to
College Tennis Planning
Available in Kindle, Print & EBook
for H.S. Seniors
and H.S. Juniors
Return to:
College And Junior
Tennis Homepage