Wednesday, March 15, 2006-Day Four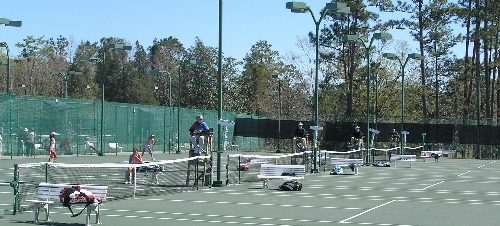 It was another perfect weather day in Mobile and the sun was shining directly on the National Spring Championships. In contrast to previous days, there were no real upsets to speak of -- but plenty of great tennis.
The boys singles draw was fairly predictable today with only one unseeded player remaining. Viju George had earned his spot without upset, after defeating Aaron Carpenter. (It was Aaron who created the upset yesterday over Jason Morgenstern.) Viju now faces one of the No. 5 seeds -- J. Houston Barrick.
Rounding out the quarterfinals tomorrow will be George Navas after a great match with Nicola Meister (6-4,4-6,6-2) that I was happy to catch some of. William Guzick (9) just got by Mattew Brewer despite some problems with his serve, while Matthew had his to perfection today. It was a very competitive battle between doubles partners Jared Pinsky and Adam Schwartz. As I watched it was impossible to call who would walk away from that one, but Adam squeaked by, 7-6(6),6-4. He will now face the draws highest seed, Davey Sandgren, who had an easier one today against Stephen Havens, 6-3,6-2. (Davey also earned his place in the doubles semis with partner Tyler Davis.) Three more No. 5 seeds also advanced -- Xavier Smith took German Boyachinsky (9), 6-4,6-3; J. Houston Barrick eliminated Roy Kalmanovich; and Rook Schellenberg beat No. 9 Michael Dieberger, 6-4,6-4.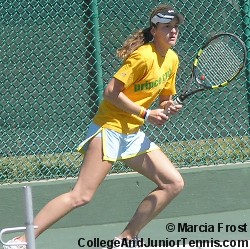 It is a very different tournament for bubbly Reka Zsilinszka (left) this year. At this event in 2005, she fought her way to the finals (losing to No. 1 Lindsay Burdette) as an unseeded player. This year she is one of the few remaining seeds in the girls singles. Though she lost in doubles today, Reka has only lost nine games to the singles quarters. Today her victim was Noelle Hickey, though I saw most of the match, with some terrific long points, and it was definitely a lot closer than the 6-2,6-0 score shows. On the other hand, the tournament's second youngest in the round of 16, Olivia Janowicz, couldn't repeat the upset she had yesterday against Shinann Featherston. Despite pushing it to three sets, she lost to No. 4 Lauren Lui, 5-7,6-0,6-4.

There are some real surprises left in the girls singles draw. Though she was not seeded, Copper Bowl finalist CC Sardinha had three quick matches coming into today so I was surprised when I got to her match that she was down 5-4 in the second. There was no fanfare as Mallory Cecil won 7-5,6-4, but I was told by the spectators that the terrific points I saw were typical of the whole match. The points were also good ones as third-seeded Melissa Saiontz defended her spot against Julia Huschke. Julia pushed it into a tiebreaker in the second, but Melissa got out of it to face No. 5 Magdalena Bresson tomorrow.

Another match I had my eye on was between Kristen Rafael and Sanaz Marand. Despite the fact that both of them were unseeded, the match was as exciting as the rest as Kristen's tennis was the best I've seen of her through the 6-3,6-3 win.

Claire Bartlett, who yesterday took out top seeded Kristen McVitty, lost today to another unseeded Claire in a 7-5,6-1 decision. Claire Rietsch will now face 14 year old Julia Boserup. Unseeded Julia owns the only singles upset out there today with a 6-1,6-2 victory over No. 9 Laurianne Henry.

It's predicted to be another beautiful day here and I can't wait to see what the sunshine shows at the Mobile Tennis Center.

Until Tomorrow,
Marcia Frost


P.S. For more reporting from the National Spring Championships, check out Colette Lewis at Zoo Tennis.
click on a photo to enlarge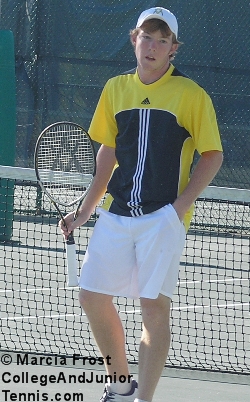 James Moye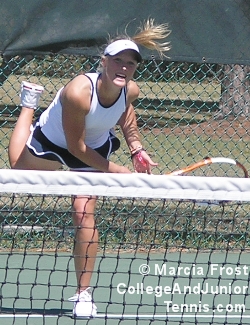 Mallory Cecil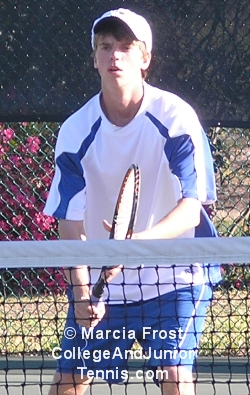 Reid Carleton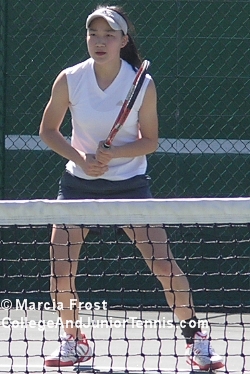 Stacey Lee
David Wolff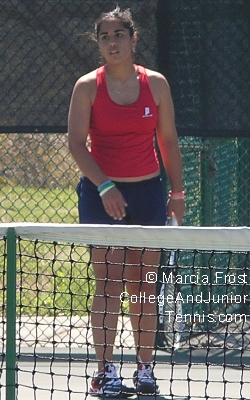 Sanaz Marand
Adam El Mihdawy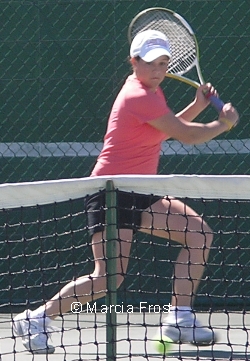 Jennifer Meredith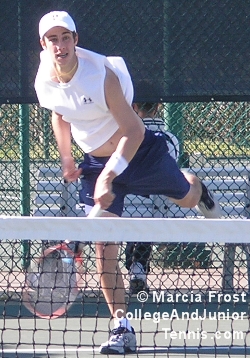 Jared Pinsky
Create an Amazon Wedding Registry
Return to:
College And Junior
Tennis Homepage