Thursday, March 16, 2006-Day Five
Once again the weather cooperated here in Mobile. I have no doubt that I will see enough sun over the next few months and the overcast sky was welcome. In fact, the clouds made for perfect picture taking weather. And there were certainly plenty of players to take pictures of.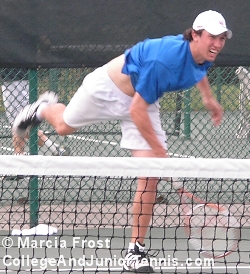 As the tournament finish nears, there remains only one player of the 256 who is in position to win two gold balls -- Houston Barrick (left) The Tennessee teen easily defeated Viju George today, 6-4,6-0, in a match that had the former endlessly shaking his head in disbelief. Just a few hours later the 16 year old was back on the court with doubles partner Eric Quigley to earn their place in Friday's final against Matthew Allare and Calvin Bennett. Both teams are unseeded.

In the other boys singles quarterfinals, Xavier Smith fell ill in the second set to George Navas, leaving the incoming Michigan freshman to face Houston tomorrow. I caught some of the incredible match between Rook Schellenberg and William Guzick. Rook, seeded fifth, was pumped to win, but William didn't give up until the end leaving many expecting a third set just before the 6-2,6-4 finish.

Another great one was No. 9 Adam Schwartz, who signed with UPenn, against No. 2 seed Davey Sandgren. It was one of those nail-biters that brought out the fight in both players. Davey, who is not only attending the University of Tennessee, but can be seen around the Mobile Tennis Center promoting the Vols (men's & women's) teams, just had the edge in every game to his 6-3,6-4 win.

After all the upsets at the beginning of the week, the girls draw proceeded for the second day without any real surprises. Two unseeded players, Claire Rietsch and Julia Boserup, led the top of the draw. It was a close first set that looked like the model of an intense match. In the second, though, it was all Claire, setting her up for a semi against fourth-seeded Lauren Lui. Lauren has not had an easy draw and today was no different as she played her fourth three-setter (her only straight set victory included a tiebreaker). It was a baseline battle as the soon-to-be Northwestern Wildcat was taken to 3-6,6-4,6-4 by Mallory Cecil.

Court 42 was the scene of two very different players. Magdalena Bresson held her cool as she faced the animated Melissa Saiontz through some incredible points and very close games. Unfortunately, the mental control just wasn't enough to push her over that edge Melissa had. It was a long, grueling match that she took, 6-4,7-6(4). Friday's semifinal puts Melissa up to a real challenge as she faces the second-seeded Reka Zsilinszka. It was another quick one for Reka as today she only dropped one game over Kristen Rafael. Kristen had some unbelievable shots and the players did go through some long points, but it seems that no one here can match Reka's mental toughness.

The girls are a round behind in doubles due to the rain at the beginning of the week. Semis and finals in that event are due to be played Friday. Let the trophy presentations begin!

Until Tomorrow,
Marcia Frost


P.S. For more reporting from the National Spring Championships, check out Colette Lewis at Zoo Tennis.
click on a photo to enlarge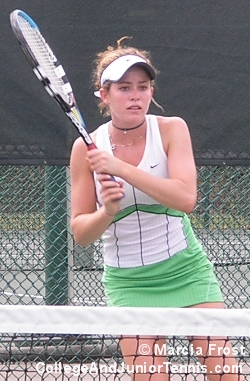 Melissa Saiontz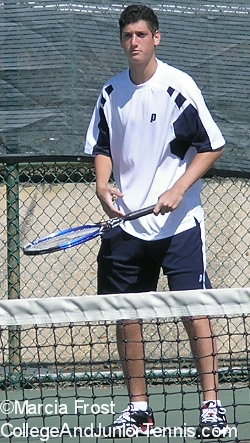 Adam Schwartz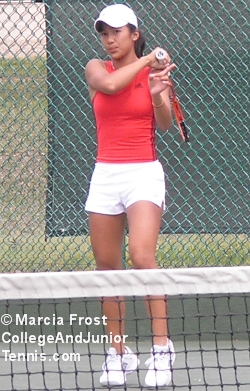 Kristen Rafael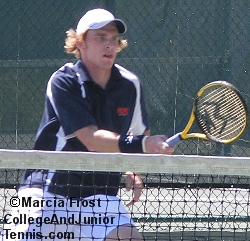 Rook Schellenberg
CC Sardinha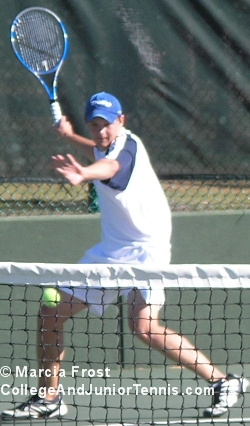 William Guzick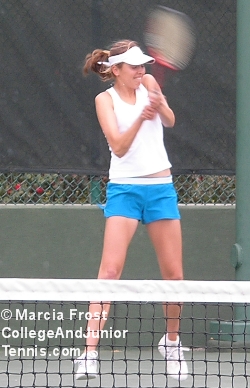 Laurianne Henry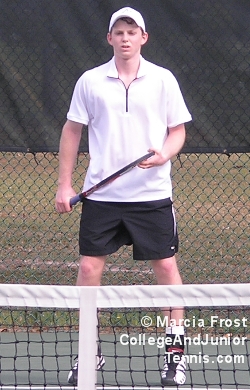 Stephen Havens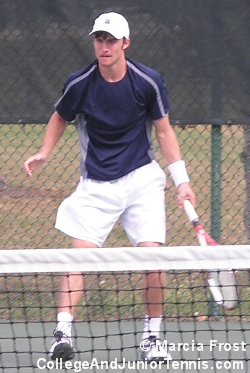 Tyler Davis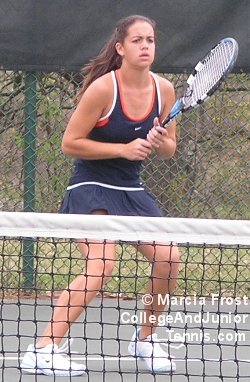 Julia Huschke
Create an Amazon Wedding Registry
Return to:
College And Junior
Tennis Homepage