Friday, March 16, 2007-Day Five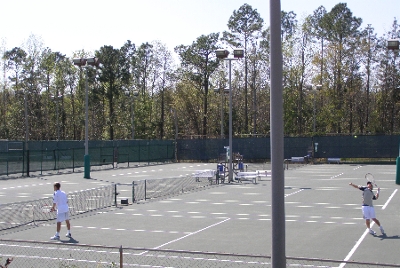 The tennis was as unpredictable as the weather today as the sun came and went with the wind, it was either hot or cold -- with occasional drizzle -- and the play was neverending.
A few days ago I predicted there would be a Brennan Boyajian-Dennis Nevolo boys final. There weren't too many who agreed with me at that time, and I am the first to admit I'm not always right, but this time I was and the two will face each other in singles and doubles. It wasn't an easy road for either one of them as both boys semifinals went to three-sets, while the girls matches were long finished.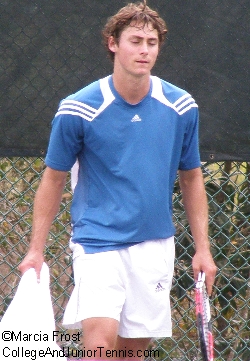 I can't say that Wil Spencer (17) (right) and Brennan Boyajian (6) played a great match. There were some long games in the first set until the 4-3 break for Brennan. He kept it and took the set, 6-4. In the second, Wil held off two match points at 5-4, and then led a long game at 5-5, but when they got to the breaker it was anti-climatic with a shutout to Brennan.
The wind seemed to be the star in the semifinal between Eric Quigley (17) and Dennis Nevolo (12). The players decided that the dropshot was the way to get past it in the first set and that's what the game was about. Not your usual kind of tennis, but effective for Dennis, the 6-2 winner. I'm not sure what happened in the next one. I walked away for awhile to pay attention to the other matches a bit and came back to find Dennis making errors and dropping 6-1. The third set was definitely the highlight of the match as far as points were concerned and it went to the twelfth seed, 6-2.
The girls matches went on at the same time as the boys with very different play. Unfortunately, Asia Muhammed (below left) woke up with a stomach virus (as did a few parents) and just could not get her game together with Melanie Oudin. What I had hoped would be an incredible match as the Vegas serve and volleyer faced the No. 1 seed, wasn't even close. The third seed fell quickly and easily, 6-0,6-1.
I'm not sure what to say about the Lauren Embree-Alison Riske match. To sum it up -- it was a back and fourth baseline battle. The points were very long and in the end Lauren proved that she deserved to be seeded four over Alison's nine as she squeaked it through, 7-5,6-3.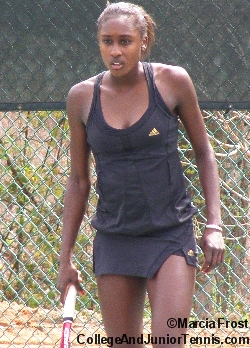 When the semis were over it all just began again through some very exciting doubles play. I did see a few great points in the boys, where Brennan Boyajian & Zach Hunter beat Tyler Davis & Eric Quigley, 6-3,6-3 and Bradley Klahn & Dennis Nevolo topped Zach Nichols & Jack Seider, 7-5,4-6,6-1, but my attention was on the girls.

There is no simple way to describe the match between Lindsay Clark/Shinnann Featherston (2) and Lauren Embree/Rachel Saiontz (10). While there were some of the most spectacular points I have ever seen in girls doubles, there were also a lot of errors. After over two hours, the lower seeds prevailed, 2-6,7-5,6-4. At the same time the other doubles semifinal was taking place and the tennis kept getting better in that one. After winning the first one in a 7-5 tiebreaker, fifth-seeded Asia Muhammed & Carolyn McVeigh were up 5-3 and had match point when third-seeded Stacey Lee & Christina McHale came back in dramatic fashion and won the set 7-5. The final set seemed to go on forever and it took a wild ride from 5-3 (a match point and five deuces before Asia & Carolyn broke) to 6-4 where Stacey & Lee took it three hours from the start.

In the consolation finals, Shinann Featherston has a second chance against Chelsea Preeg, who she lost to in three sets in the main draw and Will Guzick will go against Alex Domijian. It's all over on Saturday and there will be quite a few players taking home multiple trophies.

Until Tomorrow,
Marcia Frost

P.S. For more reporting from the National Spring Championships, check out Colette Lewis' stories & photos at Zoo Tennis.
click on a photo to enlarge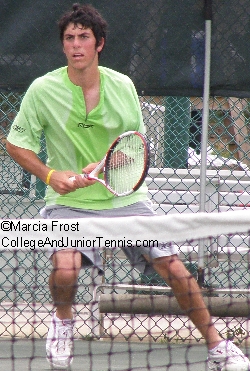 Brennan Boyajian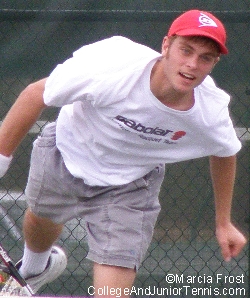 Dennis Nevolo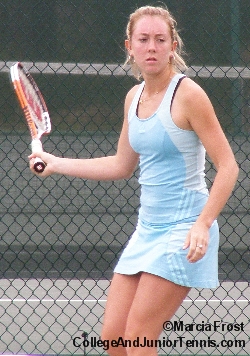 Lauren Embree
Eric Quigley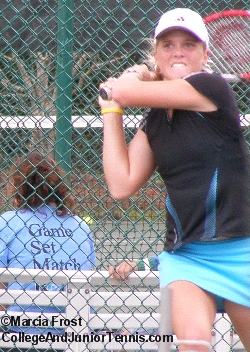 Melanie Oudin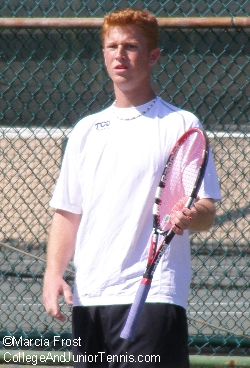 Jack Seider
Alison Riske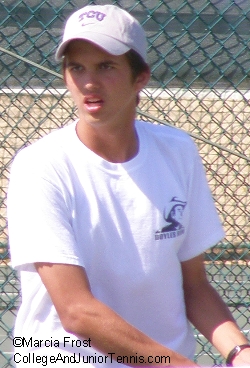 Zach Nichols
Carolyn McVeigh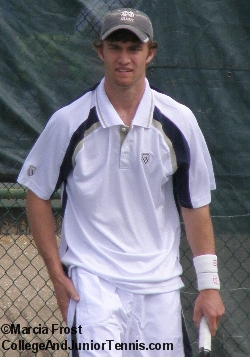 Monthly Guides to
College Tennis Planning
Available in Kindle, Print & EBook
for H.S. Seniors
and H.S. Juniors
Return to:
College And Junior
Tennis Homepage