TALKING WITH... RASHAAD WILLIAMS
April, 2003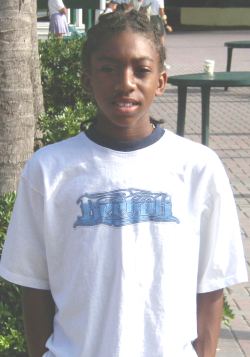 When you see a list of the trophies Rashaad William has, it is hard to believe that he is just barely twelve years old. He may be young and petite, but there is a lot of power coming from the Floridian and he is not afraid to take chances on the court.
The tennis start for Rashaad Williams began at the tender age of seven. By the time he was just ten years old he reached the national finals at the Little Mo Boys' 10 and under (see picture bottom left courtesy of MCB Foundation). He went on that same year as a semifinalist at a USTA National Open, a quarterfinalist at the Gator Bowl and a finalist at the Southern Open. And that was just the beginning.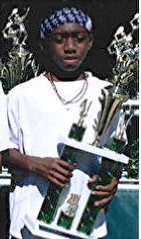 In the past month alone, Rashaad has taken the consolation draw at the Mutterspaw Championships and the Super Feed-In at the Super National Spring Championships as well as the top doubles prize at that event (with partner Jarmere Jenkins). Last year Rashaad won the Gator Bowl, Southern Open and two FTA Designated events. He also placed in the top four at the Eddie Herr, the Super National Spring Championships and the Franklin Winter Championships.
When I sat down with Rashaad at the Super National Spring Championships he was confident and happy despite having just been upset in the quarterfinals by Ryan Harrison. He was brushing off the loss and ready to face the rest of the tournament and conquer all.
by Marcia Frost
---