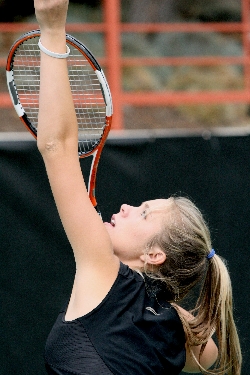 Q: When did you start playing doubles together?
Roxanne: "When we were about seven and six."
Q: How is being sisters an advantage on the court?
Sierra: "We're so close that we always know what shots we are going to hit."
Q: How is it a disadvantage?
Roxanne: "I think the only disadvantage is that during some tournaments we don't get to play in the same division. When I was in 16s and Sierra was in 14s she would have to play (up to) 16s because I couldn't play (down to) 14s."
Q: Most top junior players do not play high school tennis. Why do you?
Roxanne: "We had a great year this year and the previous year and we wanted to continue through my senior year and see if we could get another championship."
Sierra: "I love playing on teams. It's really fun and everyone on the team plays really good tennis. It's just a fun experience."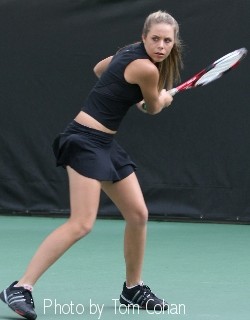 Q: How is your game different from your sister's?
Roxanne: "I'm a righty and she's a lefty so I've got a great right hand serve on the deuce side that kicks out wide and she's got a lefty serve. That' one difference. I think for the most part we have pretty similar games. We work with the same coaches and have the same serve and volley style games."
Q: Do you think you want to play on the pro tour together someday?
Sierra: "Yes, we want to go to college and then we're thinking about playing professional doubles like the Bryan Brothers."
Q: What has been your best win?
Roxanne: "This last tournament we were playing at the Carmel Valley National Champinships and we won 8-0 against this other great team. I thought that was a fabulous win for us. Everything just came together and we played our game. We were really solid and we were in the zone. It was a really fun match."
Sierra: :It really changed how we felt about things. Now we think we can keep on going farther and farther and getting it together.
Q: What tournament did you have the most fun at?
Roxanne: "The Easter Bowl. Definitely. Not only because we did really well, but we met with Luke Jensen and we talked with him a little bit about doing a show on The Tennis Channel with us. We're really excited to work on that and see what comes of it."
Sierra: "I actually loved The Easter Bowl. It was a really fun experience and I loved it.
more