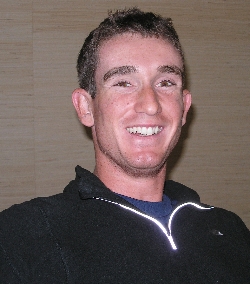 I didn't really know Ryler DeHeart as a junior when he was ranked No. 4 nationally in the 18s, or when he was a third place finisher at the Claycourts or a fifth place finisher at Kalamazoo. I didn't even know Ryler during his first two years at the University of Illinois where, despite starting his freshman year as the Most Outstanding Player at the season-opener, he was overshadowed by players like Amer Delic, Rajeev Ram and Brian Wilson. I didn't get to know the Floridian until this past year when he was no longer in anyone else's shadow.
Ryler DeHeart is currently the No. 1 ranked player in college tennis. The 21 year old began the 2004-05 season by winning the ITA Midwest Regional and using that stepping stone to capture the ITA Indoor Championships -- as an unseeded player. He continued at the top of the rankings throughout the season. By summer he had earned All-American honors, been named Big Ten Player of the Year, was a member of the ITA All-Star Team and finished as the winningest player in Illinois history for a single season.
The road to an incredible junior year at Illinois was a long one. He came into the Fighting Illini at a time when the team was becoming one of the greatest of all time. After a perfect season they continued winning through the fall and winter of 2003-04. Though Ryler didn't get to play when the team won the NCAAs, by the following March Ryler DeHeart had made his way to the top of that team and was even named the Big Ten Player of the week. He would finish his sophomore year on a team that had one 64 straight matches before falling in the NCAA semifinals. And he would be voted the team's Most Improved Player.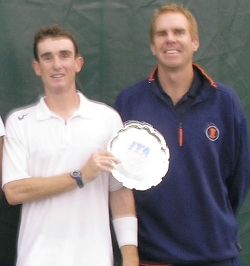 By the 2004-05 season most of the NCAA winning team was gone and Ryler had a clear place at the top. He kept the fight up all year and, despite playing USTA Pro Circuit Events in the off-season, was a team player through and through. It was at one of those Pro Circuit events this summer that I really got to watch Ryler DeHeart play. I was impressed with his talent, but more taken with his resolve and sportsmanship. I continued to learn that there wasn't a point in a match that Ryler DeHeart couldn't come back from and there wasn't a match that could take down his spirit. Nothing exemplified this more than at the 2005 ITA National Indoors when, as the top-seed, he lost in the first round only to come back and win the consolations.
by Marcia Frost
Note: On March 10,2006, Ryler broke Michael Calkins record of the most singles wins ever at the University of Illinois.