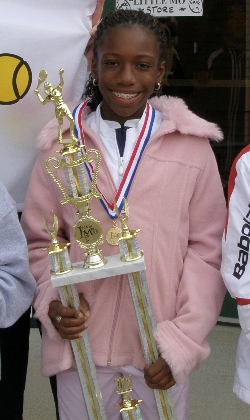 Q: What has been your best win?*
A: "The USTA National Spring Championships at Delray Beach in April. I won the Gold Ball."
Q: What tournament did you have the most fun at?
A: "OUATT (Once Upon a Time Tennis) in France and Croatia this summer."
Q: What tournament haven't you played yet that you're most looking forward to playing?
A: "Wimbledon."
Q: Does anyone else in your family play tennis?
A: "No one has ever played, I am the first."
Q: At what age did you start playing tennis? ?
A: "Six years old."
Q: How old were you when you played your first tournament?
A: "Seven."
Q: Where do you train?
A: "Patrick McEnroe's at Grove Isle and Weston Athletic Club. "
Q: With anyone in particular?
A: "I have three of the best coaches. Kevron Bennettt and Otis Johnson have been my coaches for four years and I train daily with Lawrence Tieleman."