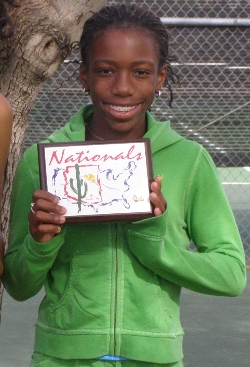 It seems like 12 year old Sachia Vickery is everywhere. I can't go through a week of putting up results without seeing her name. And it's almost always in the finals.
The streak started in the summer of 2006 and has continued ever since. The Floridian won four USTA national events in the past year. She also captured titles at the Little Mo Nationals and the inagural Little Mo Internationals.
It began in July of 2006 when Sachia Vickery went through the 12 and unders with a Third Place in the USTA National Hardcourts. Just a few weeks later she won the Labor Day Championships and then it was on to Little Mo, where she won the 11 and under Nationals in November and the Internationals in December. That last month of the year was a whirlwind of travel -- and trophies -- for Sachia as she went from Little Mo to Eddie Herr Internationals (where she made the quarterfinals) and then to a 4th Place at the USTA National Winter Championships.
In 2007, Sachia Vickery has continued to a No. 2 National Ranking after making the finals of the Maureen Connolly Brinker Championships in March, winning the USTA National Spring Championships in April, as well as a National Open and the Peach State Classic in May 2007. And three of those events were in the 14s.
This past summer Sachia also got to play in Europe. At the Ouatt Cup in France she beat players from all over the world and won the 12 and under division. She has now officially "moved up to 14s," where it looks like she will continue her winning ways long before she actually is 14.
I had tried to get together with Sachia a few times to no avail, so we finally set up a phone interview where I got to speak to this bright and talented young lady.
by Marcia Frost