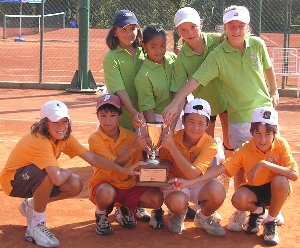 July 10, 2006 AM
Today was the day I had waited five years for -- my chance to attend the "Little Mo"/Smrikva Bowl. Despite the heat and humidity, all of the players and parents were very excited about the event.

The day started with a presentation (which I was honored to be a part of) of the players and the event. There was a beautiful dance from some local Croatian dancers and than the competition began. It was set up so that the eight players -- Gianluigi Quinzi, Filip Kraljevic, Dina Paocic & Eleanor Dean from Europe and Daniel Maese, Aries Wong, Gabriella Umoquit & Christina Makarova -- would each play two singles matches. Although the Europeans won (7-1) for the fifth time in a row, the Americans put up quite a fight. The points and games were all long, especially the final match between Filip Kraljevic and Daniel Maese. That one was a real nail-biter that looked like it would never end. Everyone was sure that we were going to see a third set of great ralleys (and some of the best drop-shotting I have seen in junior tennis), but Filip pulled out the tiebreaker in the second 8/6 and it was over.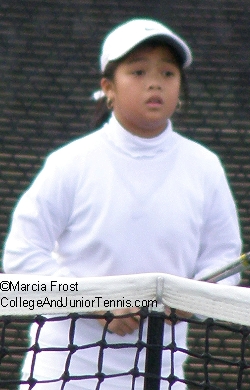 After the match the teams shared in cutting the "Little Mo"/Smrikva Bowl cake and shared in champagne for all before I took off with the American team for a boat ride to the Brijuni Islands. The kids -- who had each played two matches in the hot sun -- went swimming in the Adriatic sea and then led us on I hike to the top of the island, followed by rock climbing down! It was quite an adventure.

It was quite an end to my trip as we celebrated the "Little Mo"/Smrikva Bowl, te Wimbledon Finale, the World Cup finals and the double-digit birthday of Gabriela Umoquit (left). I am now off to finish my vacation with a day in Trieste, Italy, followed by a short trip to Paris.
Au Revouir!
Marcia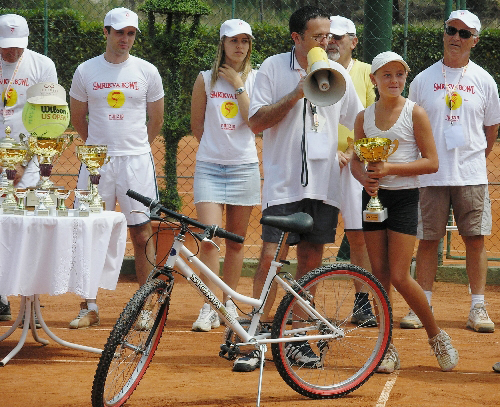 RESULTS FROM THE "LITTLE MO"/SMRIKVA BOWL
Europe 7, USA 1
Eleanor Dean (Europe) defeated Christina Makarova, 6-3,6-2
Gianluigi Quinzi (Europe) defeated Daniel Maese, 6-0,6-1
Dina Paocic (Europe) defeated Gabriella Umoquit, 6-4,6-3
Aries Wong defeated Filip Kraljevic (Europe), 6-4,6-4
Dina Paocic (Europe) defeated Christina Makarova, 6-4,6-1
Eleanor Dean (Europe) defeated Gabriella Umoquit, 6-1,6-2
Gianluigi Quinzi (Europe) defeated Aries Wong, 6-1,6-0
Filip Kaljevic (Europe) defeated Daniel Maese, 6-4,7-6(6)
Please visit the Smrikva Bowl or Maureen Connolly Brinker websites for more details.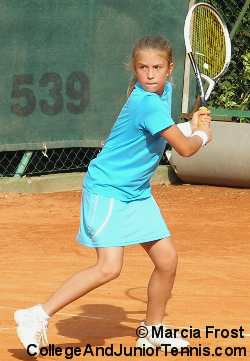 July 9, 2006 AM
The Smrikva Bowl was started as a promoter of peace, bringing together kids of many nations to enjoy the sport of tennis. This tradition has continued for 11 years and was reinforced with the yearly planting of the olive tree seeds last year. The children today -- whether they won or lost -- all showed the spirit that brought them together.

There was lots of good tennis today even though there really weren't any close matches. The children displayed great sportsmanship and claycourt skill that I am still amazed comes from 8,9 & 10 year olds. While Eleanor Dean of Spain (who still has a clear British accent) won her final match against Bosnia's Dina Paocic (right) without the loss of a game, it was Gianluigi Quinzi who was the star of today's show.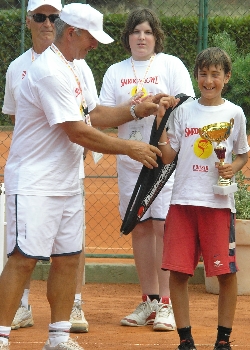 I do not have the opportunity to cover a lot of ITF junior tennis so I was unaware until today that there is actually an ITF 10 and under Grand Slam. The "Slam" is made up of the Lemon Bowl, "Little Mo," Ouatt Kids Cup and Smrikva Bowl. Today, Gianluigi, last year's third place winner, completed that Slam. The 10 year old Italian ran through the first 11 games of his match against local boy Filip Kraljevic (left). Though he did lose two before his win, there was never a doubt that he would come through.

The winners of the Smrikva Bowl are given mountain bikes and the finalists are given new Bobalot tennis racquets. All winners, finalists and third & fourth place players in main draw and consolation are given trophies. The ceremony gave each kid a chance to speak in their native language. It was almost as exciting as the tennis itself.

As the Smrikve Club already begins talking about the players they would like to bring in next year (from Asia and Africa), the winners and finalists prepared to play the Americans in the "Little Mo"/Smrikva Bowl. It is to start in just a little while and I am happy to be here and to bring it around the world.

P.S. I'm currently uploading through dialup on the only phone line in the complex, so I can only publish once a day and daily pictures will be limited, but I am taking many so look for more to be posted in the days to come.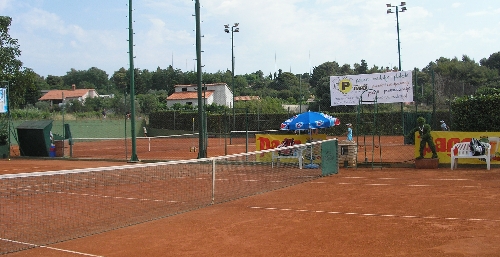 July 8, 2006 AM

Friday was an exciting day of tennis here at the Smrikva Bowl as the quarter and semifinals were played. The weather was not at all as I expected with temperatures only in the 70s (farenheit) and a bit of rain. The showers suspended play briefly four times, but it didn't dampen the players' spirits and at times it was difficult to get them to stop playing through it!

The matches (until the two out of three set finals) follow a format often used in Europe for this 10 and under age group where the main draw plays to one set of nine games and the consolation plays to one set of six games. There are only three courts here so the reduced format helps, however, it still took the entire day and into the evening to finish the day's matches.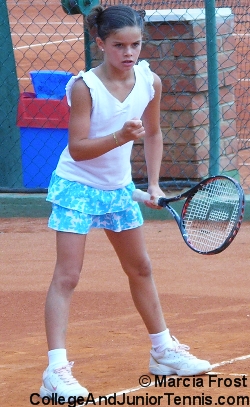 Though there are many languages spoken here, there is quite a bit of English spoken on the court. It seems that "out" and "give me the ball" are universal. Even the scores are often spoken in English by players who know no other words in the language. I was a bit taken by the custom of serving beer (which many parents enjoyed) at 10:00 am, but other than that it felt like another junior tournament.

The level of play here is just unbelieveable considering the age of these players. I was totally amazed at my very first match where I witnessed barely nine year old Spaniard Virginia Pena (right) come back from being down 5-2 to overcome top-seeded Iva Primorcac of Croatia 9-7. Virginia, for whom there is must be a Spanish translation of "spitfire," is just an amazing little player with an enormous amount of energy and some excellent coaching -- Jotre Porta also works with Rafael Nadal and Tommy Haas. She did run out of her comeback steam later in the day when she ran into the No. 5 seed, the more experienced ten year old Dina Paocic. I didn't get to see much of the girls on the bottom half of the draw because they were playing on the back courts and look forward to catching Eleanor Dean in the finals and Ilka Csoregi of Romania in the third place playoff.

It was fascinating to watch Gianluigi Quinzi and Maks Tekavec of Slovenia play through the wet, red clay as they slid -- but never slipped -- through the court. Gianluigi held the match and quickly got through his semi against Hungary's Andre Biro. The other semifinal was quite different as there was much drama between local player Filip Kraljevic and Bosnia's Aziz Kljametovic. In fact, there was a brief turn when, after losing four games in a row and facing a match point, Aziz came back and won two, but Filip prevailed 9-5 in the end.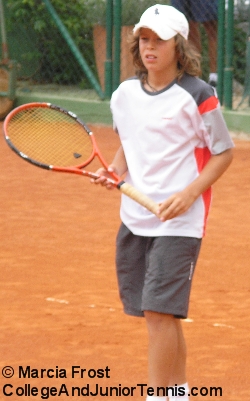 The days festivities were concluded with a presentation of the players who will be competing in Sunday's "Little Mo"/Smrikva Bowl. I was very excited to be here for this year's introduction (in Croatian, Italian, Spanish & English). The European team will be made up of the Smrikva Bowl finalists -- Filip Kraljevic of Croatia, Gianluigi Quinzi of Italy, Dina Paocic of Bosnia and Eleanor Dean, who is from the United Kingdom and now trains in Spain. They will compete against the "Little Mo" team of Daniel Maes, Aries Wong, Christina Makarova and Gabriela Umoquit, who came together for the first time today at the Presentation, followed by their first practice (more about them tomorrow, today is for the Smrikra Bowl finale).

It is just before the finals 11th Annual Smrikva Bowl. I will be going with the American families on a tour of Pula just following that and then they will be training for tomorrow's "Little Mo"/Smrikva Bowl exhibition. For Gianluigi Quinzi (left), who trains in Florida but is playing here for Italy, it will be a repeat performance while the rest of the players will be able to experience this unique event for the first time.
Until tomorrow,
Marcia



July 7, 2006 AM
I arrived in Pula late last night after my trip through Italy. My vacation in Rome was just incredible.

I am just amazed at how modern this area of Europe is. If only the roads back home were this nice! My journey took me from Trieste (Italy) airport through Slovenia and into Croatia. All of the Americans are here for the "Little Mo"/Smrikva Bowl accept for Daniel Maese, but he has a good excuse. Daniel's trip to France was extended because he made it all the way and won the doubles at the Ouatt Cup!

The quarterfinals of the Smrikva Bowl are about to start this morning and I am anxious to watch my first red clay event.
Until Later,
Marcia

June 30, 2006
I'm getting ready to head to Europe, but I thought I would tell you a little more about the Americans who will be joining me there for the "Little Mo"/Smrikva Bowl. They may be young, but they are already accumulating the accolades. In fact, Daniel Maese and Christina Makarova have already left for Europe to play the Ouatt Cup in France before they arrive in Pula.

All of the players competed in the 2005 "Little Mo" Nationals
Christina Makarova-Girls champion from San Diego, California. Ten year old Christina was a "Little Mo" winner as early as six when she won the Southern California sectionals in 2002.

Daniel Maese-Ten year old Boys runner-up from Dallas, Texas, was chosen to participate in December at Andy Roddick's (a former "Little Mo" participant himself) FedEx Texas Shootout.

Gabriella Umoquit-The 4th Place finisher from Mission, Texas, is actually going to celebrate her tenth birthday at the "Little Mo/Smrikva Cup!

Aries Wong-4th Place finisher from Bethesda, Maryland. It's been a busy year of sectional and national tournaments for the 10 year old who is ready to take his game internationally.

Coach Francisco Barriento-Former coach on the ATP and WTA Tours, he has also coached ITF Junior Tennis for 19 years and is a claycourt specialist.


The United States players will be competing against the winners of the Smrikva Bowl, to be determined on July 8th.

Well, it's time for me to get caught up here before I pack for my vacation in Rome. The next time I'll be reporting here will be from Pula, Croatia. I hope you are as excited as I am about College And Junior Tennis taking off on its first European adventure!

Arrivederci,
Marcia

June 27, 2006
It seems like just yesterday when I received a letter from Miodrag Bozovic telling me about the Smrikva Bowl. He explained this wonderful tournament to me that brought together 10 and under players from all over Europe. All I could think about was how much it sounded like the "Little Mo" events, presented by the Maureen Connolly Foundation for 11 and under players in the United States. I suggested that Mio contact MCB's Carol Weyman and the rest, as they say, "is history."

The "Little Mo"/Smrikva Bowl is now in its fifth year and I've finally accepted the yearly invitation to attend the Tennis Club Smrikve. I'll be heading to Pula, Croatia, after a brief vacation in Rome to begin coverage on July 7th. From the Smrikve Club in Pula I will bring photos and stories of the prestigious tournament and the finale -- the Little Mo/Smrikva Bowl exhibition on July 9th. I am very excited to be there along with the United States team of Daniel Maese, Aries Wong, Christina Makarova and Gabriella Umoquit. The team will be coached by Francisco Barriento. In the coming days I will tell you a little more about those players, as well as the field for this year's Smrikva Bowl.

Until Then...
Dovidjenja (or Goodbye, in Croatian),
Marcia Frost


Please visit the Smrikva Bowl or Maureen Connolly Brinker websites for more details.