9th Annual
SMRIKVA BOWL
& 3rd Annual Little Mo/Smrikva Bowl
Croatia - June 30-July 4, 2004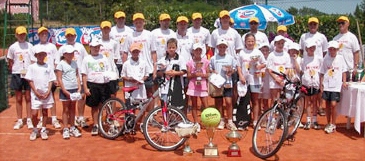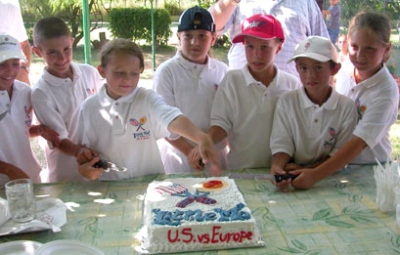 The 9th Annual Smrikva Bowl, held June 30th-July 4th at the Smrikve Tennis Club in Pula, Croatia, brought together 80 boys and girls from around Europe. The group of players age 10 and under competed for the tournament's trademark mountain bike first prizes.
In addition to the Smrikva Bowl events, the tournament teamed with the Maureen Connolly Brinker Foundation of the United States to put together the 3rd Annual Little Mo/Smrikva Bowl. The participants (pictured right) competed in a team format event which the European Smrikva team won, 6-2.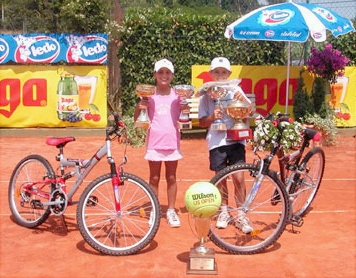 SMRIKVA BOWL
BOYS SINGLES
Finals
Ivan Levar -- pictured far right -- defeated Mik Jankovic, 6-2,6-3
Semifinals
Ivan Levar defeated Nerman Fatic, 9-2
Miki Jankovic defeated Filip Veger, 9-1
Quarterfinals
Ivan Levar/Croatia defeated Dere Laslo/SiCG, 9-3
Nerman Fatic/Bosnia and Herzegovina defeated Luka Ilic/SiCG, 9-3
Miki Jankovic/SiCG defeated Branko Atanackov/SiCG, 9-3
Filip Veger/Croatia defeated Filippo Saloli/Italy, 9-3
GIRLS SINGLES
Finals
Saska Gavrilovska -- pictured right -- defeated Ecaterina Opriou, 6-3,6-1
Semifinals
Saska Gavrilovska defeated Barbara Krvavac, 9-8
Ecaterina Opriou defeated Anja Cosovic, 9-4
Quarterfinals
Saska Gavrilovska/SiCG defeated Christine Kandler/Austria, 9-8
Barbara Krvavac/Croatia defeated Francesca Palmigiano/Italy, 9-3
Ecaterina Opriou/Romania defeated Anita Husaric/Bosnia and Herzegovina, 9-3

LITTLE MO/SMRIKVA BOWL
BOYS SINGLES
Ivan Levar (S) defeated Ryan Andrada (LM), 6-1,6-1
Miki Jankovic (S) defeated Mitchell Polnet (LM),7-5,6-1
Ivan Levar (S) defeated Mitchell Polnet (LM), 6-3,6-3
Miki Jankovic (S) defeated Ryan Andrada (LM), 6-2,6-3
GIRLS SINGLES
Saska Gavrilovska (S) defeated Anna Mamalat (LM), 6-3,6-1
Blair Shankle (LM) defeated Ecaterina Opriu (S), 6-0,6-1
Ecaterina Opriu (S) defeated Anna Mamalat (LM), 6-1,6-4
Blair Shankle (LM) defeated Saska Gavrilovska (S), 6-2,6-3
FINAL SCORE: Smrikva 6, Little Mo 2
---