2003 USTA SUPER NATIONAL
HARD COURT CHAMPIONSHIPS
Girls 18s
Almaden Athletic Club - San Jose, California - August 2-10, 2003
| | |
| --- | --- |
| Megan Falcon | Audra Cohen |
Friday, August 8th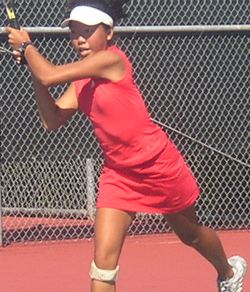 It was another day of crowds and exciting matches at the Almaden Valley Athletic Club. A lot of the energy was surrounding the scores of college coaches who came to check out (and recruit) the players. Of course this was welcomed to the girls and they played their best for the show.
Though there were no simple victories, there were few surprises in today's end results. Top-seeded Alexandra Podkolzina faced a major challenge from Vania King (pictured right) as she took the second set and pushed Alexandra to a tie-breaker in the third. The only other quarterfinalist in the main draw to have a rough time was Mary Gambale. The No. 8 seed was brought to three sets (including a tie-breaker) by Lindsey Nelson. Third-seeded Iris Ichim and No. 9 Theresa Logar easily advanced past their matches against Megan Falcon and Audra Cohen respectively.
You may not be able to tell it by the score, but both doubles semifinals were full of exciting points. In the first match, Catrina and Christian Thompson displayed their talent and played their hearts out against Anne Yelsey and Riza Zalameda. Every game was close and the points were spectacular, but the No. 2 seeds prevailed against the Thompsons, 6-1,6-4. The second doubles match was a similar event with one game going through dozens of deuces and 20 (!) minutes before it was decided. In the end it was Lindsey Nelson and Jessica Nguyen in a match against Elizabeth Lumpkin and Jessi Robinson that looked much closer than 6-1,6-1.
Tomorrow will be full of great matches as the doubles finals and third place playoff are decided. The singles will move through the semis in the main and feed-in draws and I'm sure there will be some major challenges there.
Marcia Frost
$12 off on your 1st
GrubHub order with this link!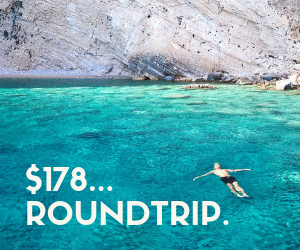 College Planning Made Easy...
Check out the Monthly Guide to College Tennis Planning



Save up to 30% on your hotel on your next upcoming trip!!





College Planning Made Easy...
Check out the Monthly Guide to College Tennis Planning



Return to:
College And Junior
Tennis Homepage