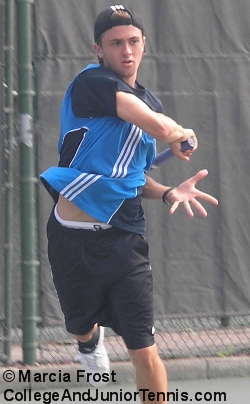 If you have any doubt that Tim Smyczek is a dominating force in American junior tennis, you weren't watching the 17 year old play at the U.S. Open Championships. The kid from the Midwest was on a roll, creating upsets and gathering crowds to watch his incredible power game.
It's a long way from Hales Corners, Wisconsin, to Australia, where Tim and partner Timothy Neilly won the doubles trophy at the Australian Hardcourts. It was just one in a list of singles and doubles titles that Tim has garnered in just the past year. In 2004, he took top prize at two National Open events, the Canadian Open and the Kentucky Derby. Add that to the numerous tournament finishes in the top eight and you have a No. 6 finish in the USTA Boys' 18 National Rankings and a No. 30 in the ITF Junior World Rankings for 2004.
While Tim has not won another title in 2005 since Australia, his results have still been impressive. In doubles, he and partner Kellen Damico (below) were quarterfinalists at Wimbledon, semifinalists at the Claycourts, quarterfinalists at the Hardcourts and the U.S. Open Juniors. He finished in singles quarters at the Open and at Kalamazoo. Tim was also one of the players involved in the filming of Jim Courier's The Zoo documentary.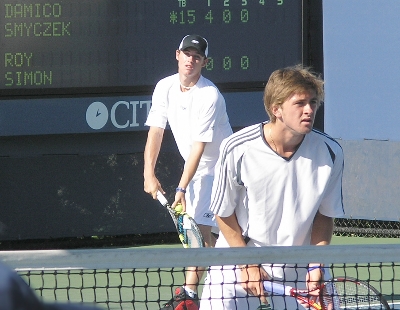 Tim Smyczek was given a wildcard into the Men's Qualifying at the 2005 U.S. Open Championships. Though he lost in the first round to Harsh Mankad, his powerful game, filled with precision serve and volley, got him noticed during the junior events. Tim ran through the singles draw, even dismissing friend and No. 5 seed Alex Kusnetsov in the round of 16, before he was stopped by fourth-seeded Santiago Giraldo in a three set quarterfinal thriller. He and Kellen also kept it alive in the doubles, where they upset the No. 1 seeds, Leonardo Mayer and Andre Miele before falling to champions Alex Clayton and Donald Young in a tiebreaker.
I was anxious to sit down and talk to Tim ever since I saw him play at the Claycourts. I got my wish at the U.S. Open.
by Marcia Frost