TALKING WITH... TORY ZAWACKI
September, 2002 continued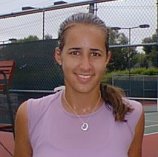 Q: Do you have any college plans?
A: "Yes. I'm taking a couple of visits this year, but I'm not sure what I'm going to do. It's tough. It depends on how well I do this year. They're just opposite experiences -- being a pro is a great experience, but then you can learn so much in college. It's two great things, but you have to pick just one."

Q: So you're still thinking about it?
A: "Yes, I have to look at the options. I'm not going to just turn pro and throw the opportunities away. I'm not ready to do that yet."

Q: Last year the US Open was your "breakout." You had just won the Hardcourts, but you really got noticed when you came here through the qualifying and won two rounds.
A: "It was fun and I had a real close last match (she lost 6-2,7-5 to No. 2 seeded Marie-Gaiane Mikaelian). I came out of the tournament feeling really okay about myself. It was kind of disappointing, but I think that inspired me to do better."

Q: Where are you training now?
A: "At Van der Meer in South Carolina with my father."

Q: I know your parents are very involved in junior tennis.
A: "Yes, my mom, my sisters, my dad as my coach."

Q: Do you think having your father as your coach gives you any advantage?
A: "No. your coach is your coach. Some coaches are a lot like fathers -- always there, all the time. I have a relationshipwith my dad where he can be a coach one day and then he's just my dad again."
---