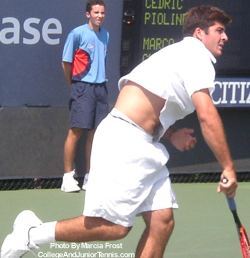 Jesse Witten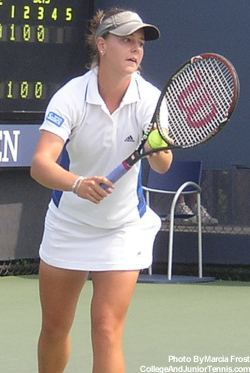 Kelly McCain
Doug Stewart
At The Open With Marcia Frost...
Tuesday, August 20th-Qualifying Day One
The Qualifying is my favorite part of the US Open. The players are all excited and appreciative and the spectators are true tennis fans. There are no major crowds and we all still have energy to run around the grounds.
This year, armed with a new state-of-the-art camera (and the knowledge that I only have to use it a few days before my photographer arrives!) I am especially enjoying it. The only thing that could make it better would be if I could report some more positive results for the younger set.
Experience counts for a lot in tennis and that was the only thing Jesse Witten was lacking today. The University of Kentucky sophomore displayed enormous power and talent on the court, but it was not enough to break Edwin Kempes of the Netherlands. Jesse, who was named ITA National Rookie of the Year after reaching this year's NCAA finals, held his own in the first set and looked like he would pull it off as the games went back on serve. It was Edwin who finally got the important break for a 6-4 set win. In the second set, despite some incredible shots by Jesse, Edwin overwhelmed the 19 year-old, 6-1.
Even though she had an incredible Freshman season at Duke that included All-American status in singles and doubles, Kelly McCain proved no match for 21 year old Allison Bradshaw. Allison, a former top player for Arizona State, took the first set in just 20 minutes. Kelly presented more of a challenge in the second set with some terrific passing shots. She also broke serve three times and survived two match points. It wasn't enough, though, and Allison prevailed, 6-2,7-5.
In the closest match by an amateur today, 18 year old Doug Stewart came just a few points from advancing to the second round. Yugoslavia's Nenad Zimonjicus challenged Doug to a powerful game of serve and volley and the teenager kept up with most of it. In the first set alone, he came back twice from 0-40 to win the game. The two fought it out to the end, when Nenad squeaked by for a 7-5,4-6,7-6(3) win. Doug, who will be attending the University of Viriginia this Fall, will have another chance to compete on the hardcourts at Flushing Meadow in the Junior Championships.
Until Tomorrow...
Create an Amazon Wedding Registry
---
---
Return to:
College And Junior
Tennis Homepage
---